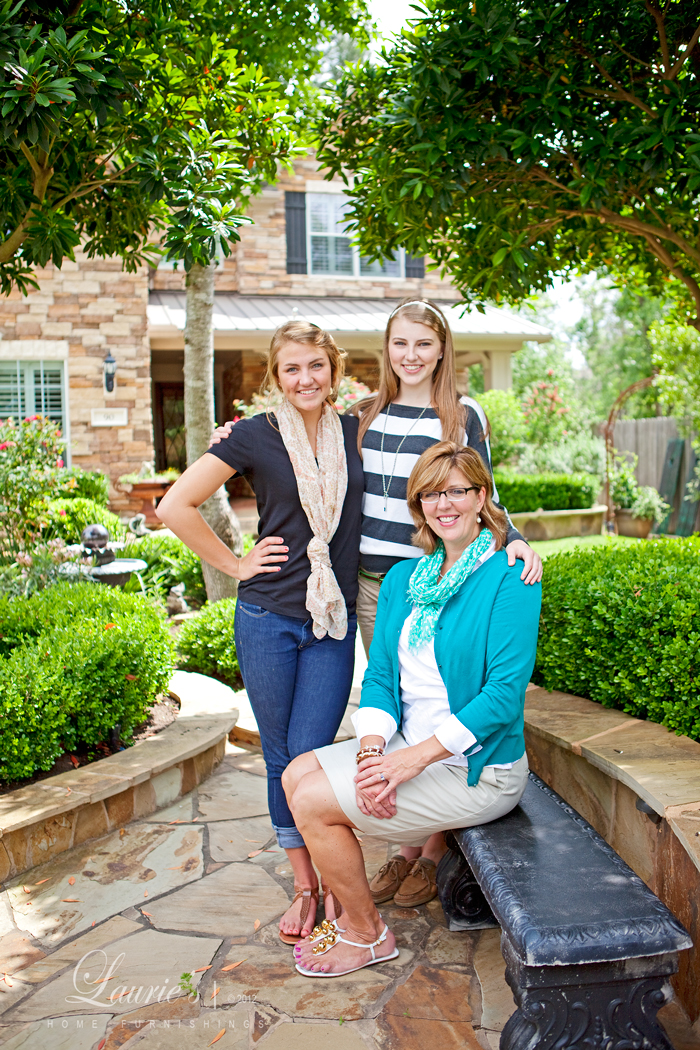 For our Welcome Home Wednesday
we thought we'd visit with a mom
who is as amazing with home design
as she is being mother to her BEAUTIFUL 4 girls.
They actually reminded me a lot of Little Women–
a much loved classic.
Not just because 2/4 girls' names
were the same as Louisa May Alcott's characters
but because of Michelle's love and care
for her family & home is so clearly visible.
Michele's expertise comes from a life-long love
of collections, architecture, art, and whimsy
all which inevitably took her down a path to home design.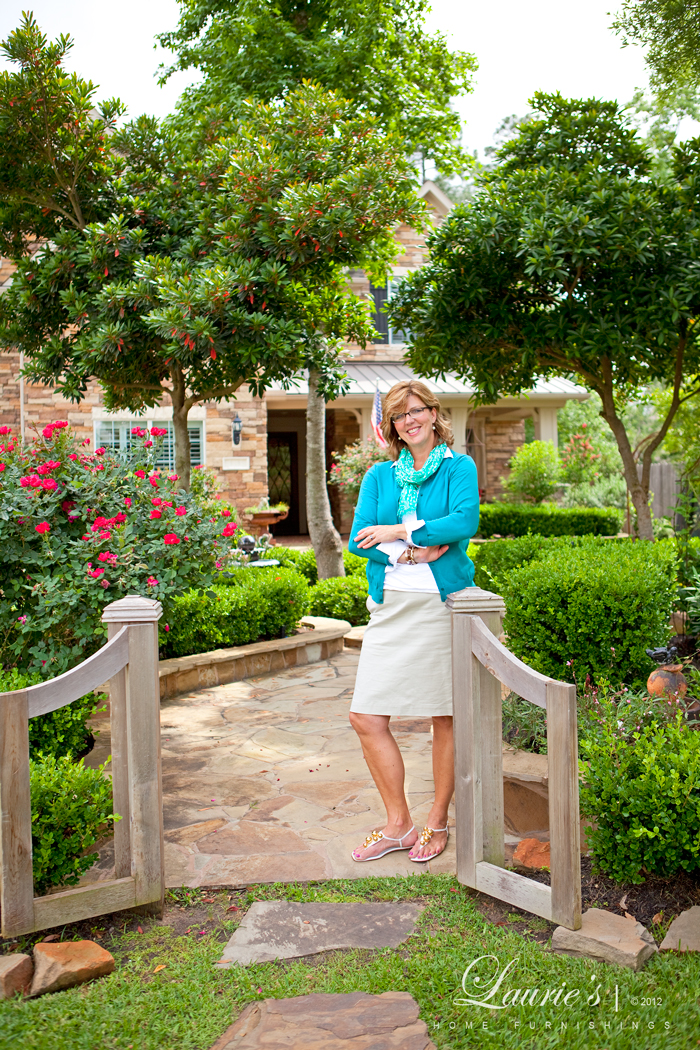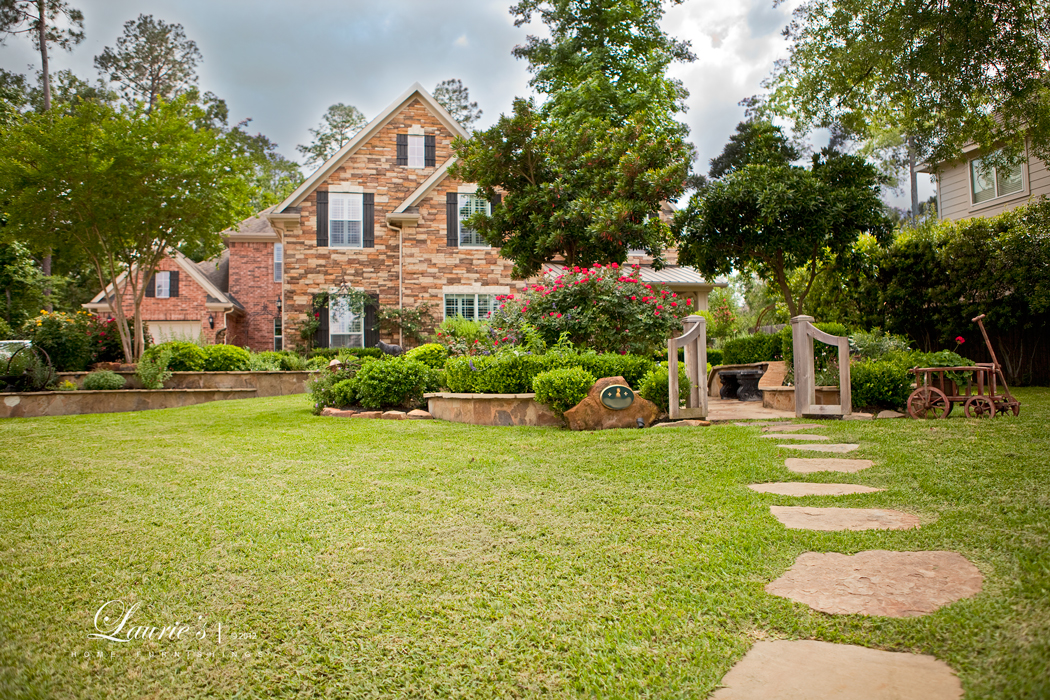 When you first drive up to the curb of the Cooke home
you already have a general sense
that this is a home that is well-loved and cared for.
Perfectly manicured lawn and
many varieties of botanical goodness are
sculpted around the flagstone walk way just so.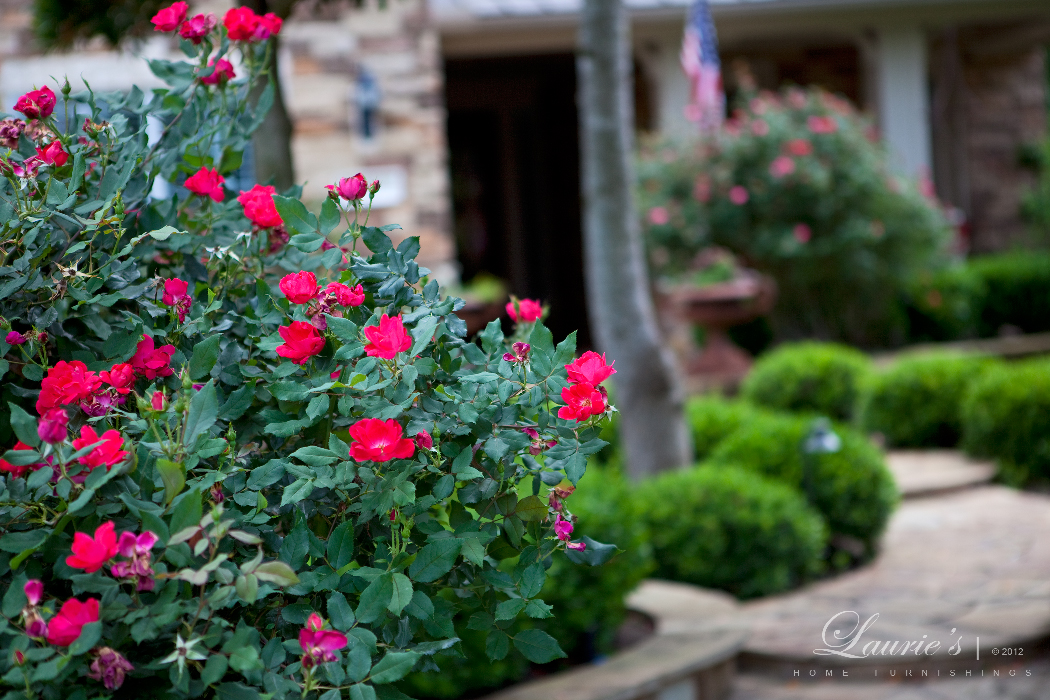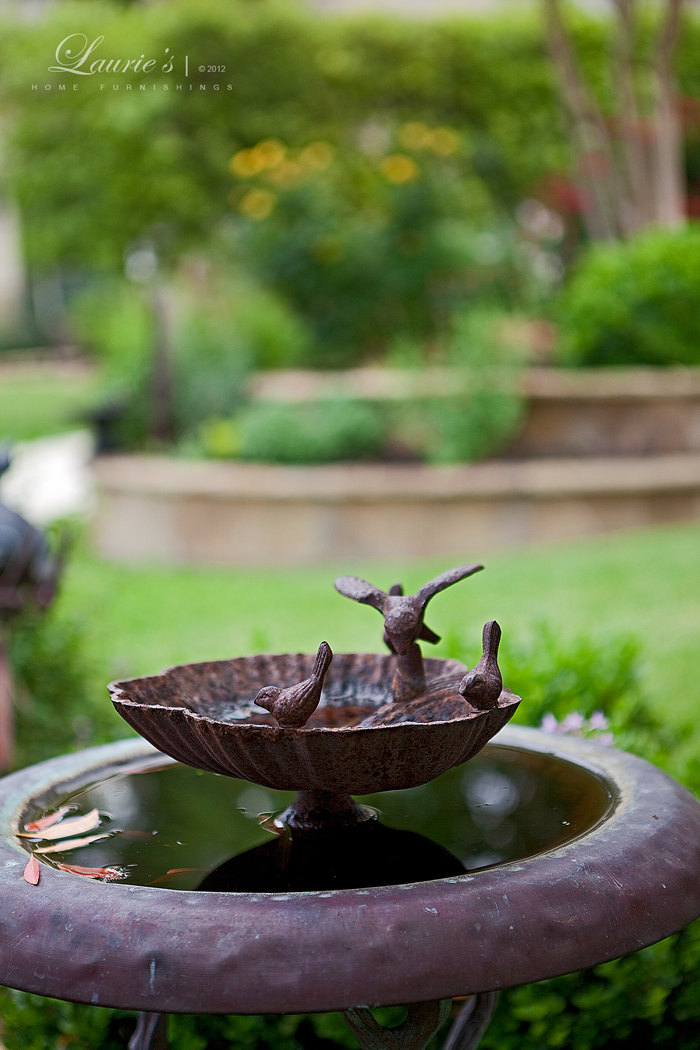 A variety of new and old treasured
garden accents set the mood for Michelle's love of
all things beautiful.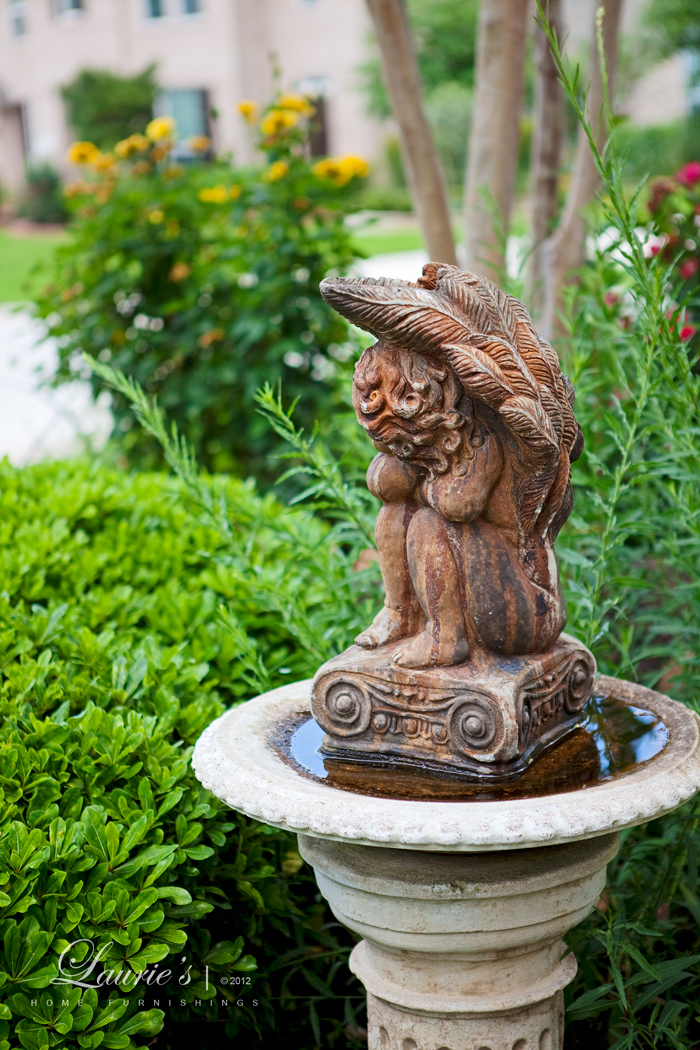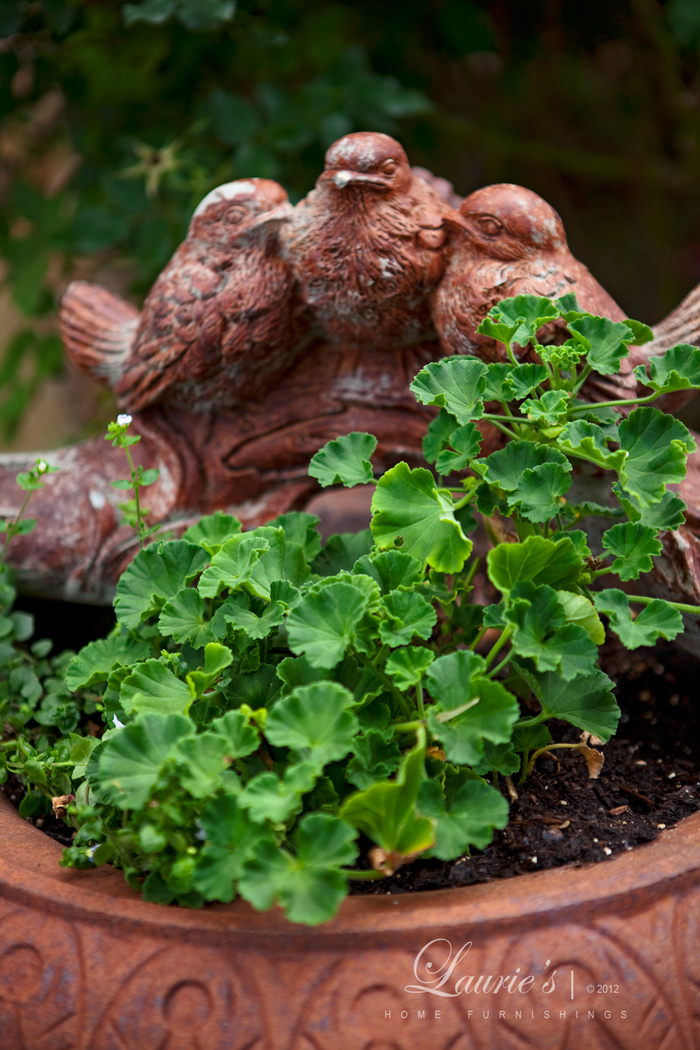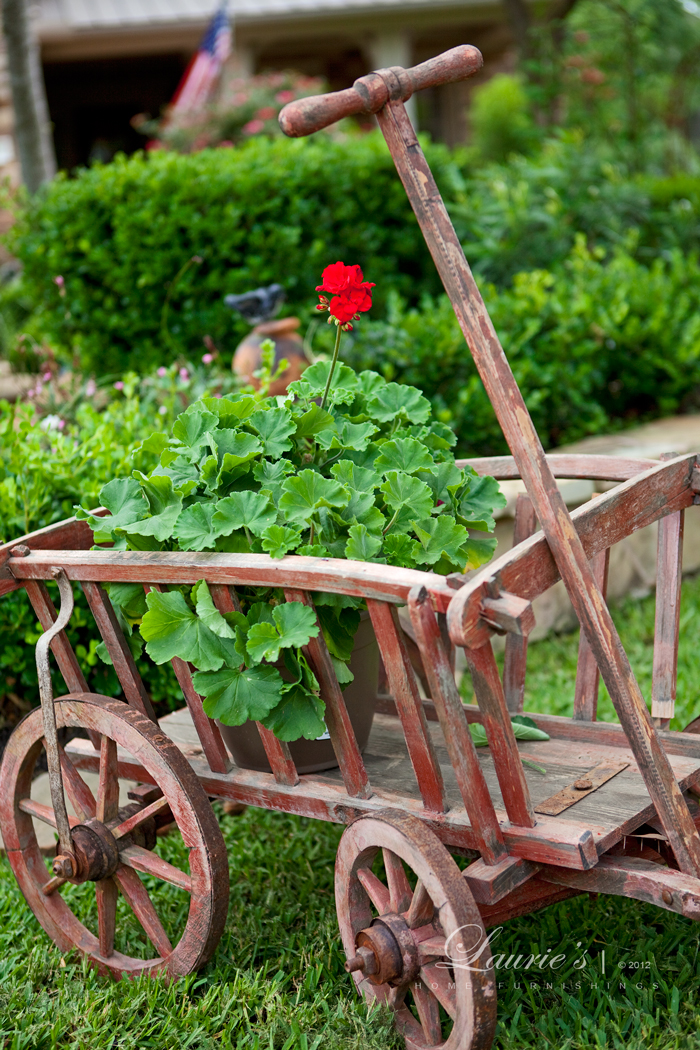 Michelle tells us she visits many
antique stores but one of her favorites
are the fairs held at Round Top.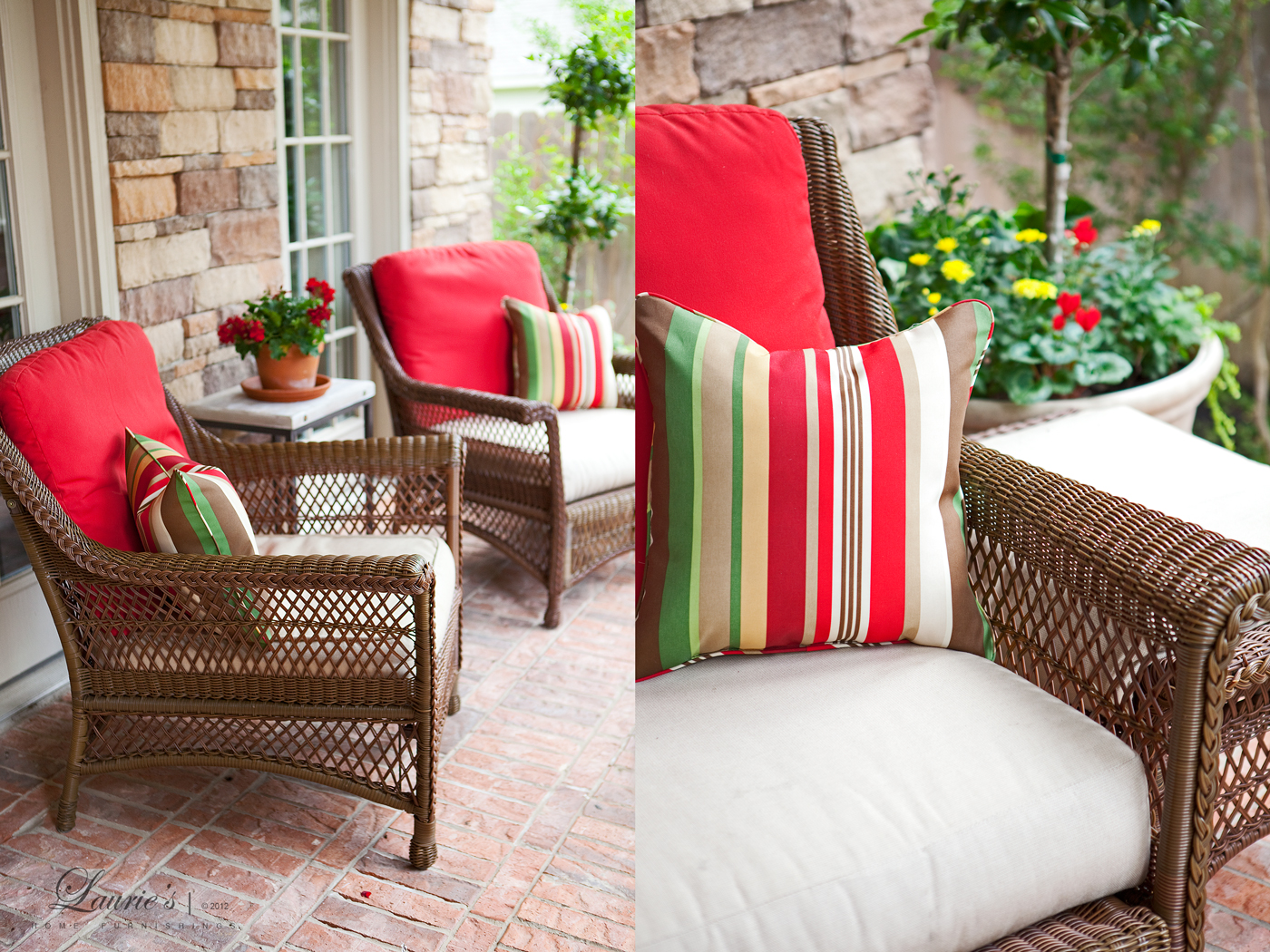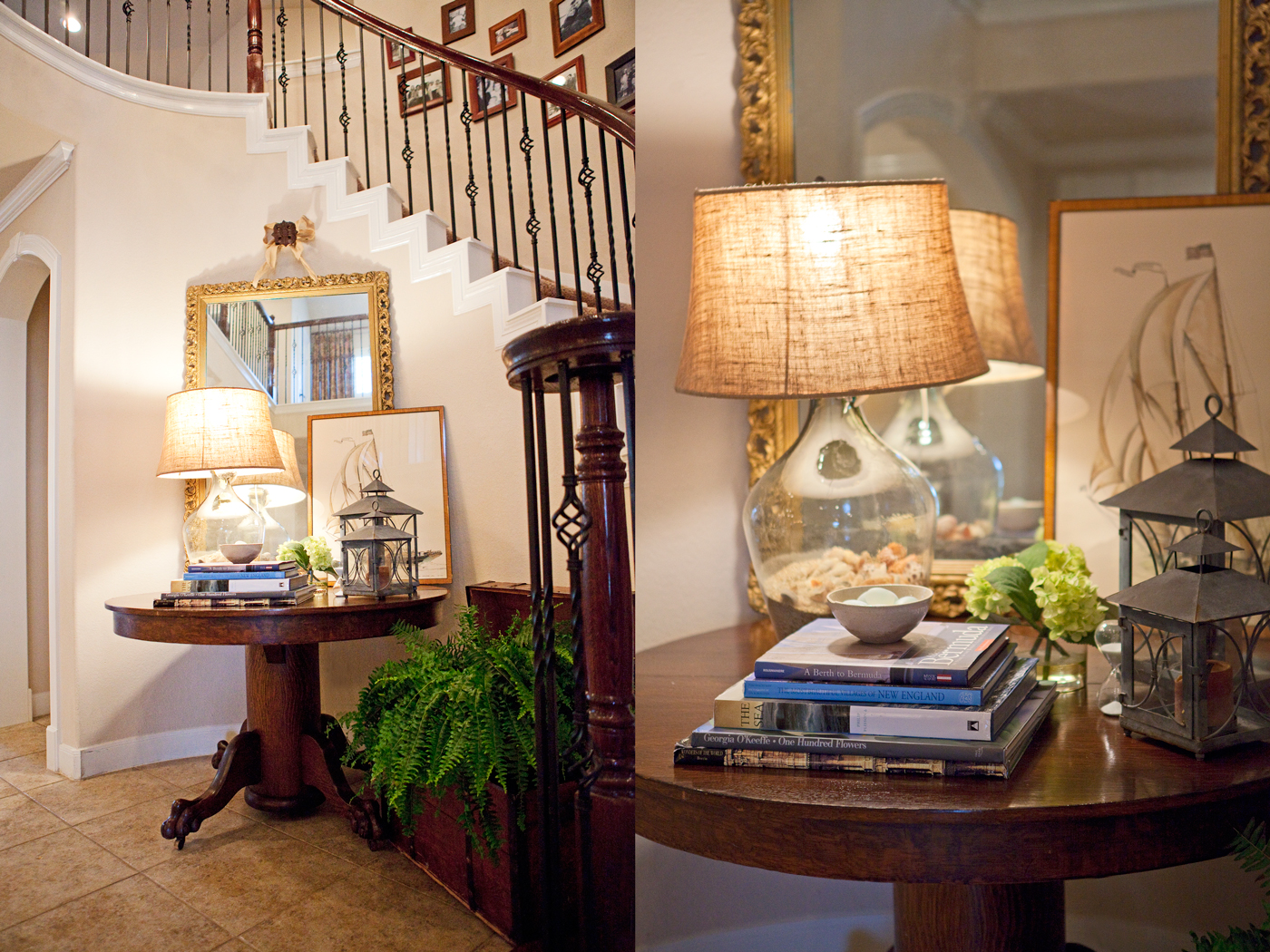 Here is a perfect example of what you will get to
know of Michelle's mantra
and how she brings together a variety of details
to make one cohesive look that
not only is aesthetically pleasing but
also incorporates her love of collections.
I had to ask if she was a Libra and sure enough!
Librans are infamous for their artistic ability
and for their collecting tendencies.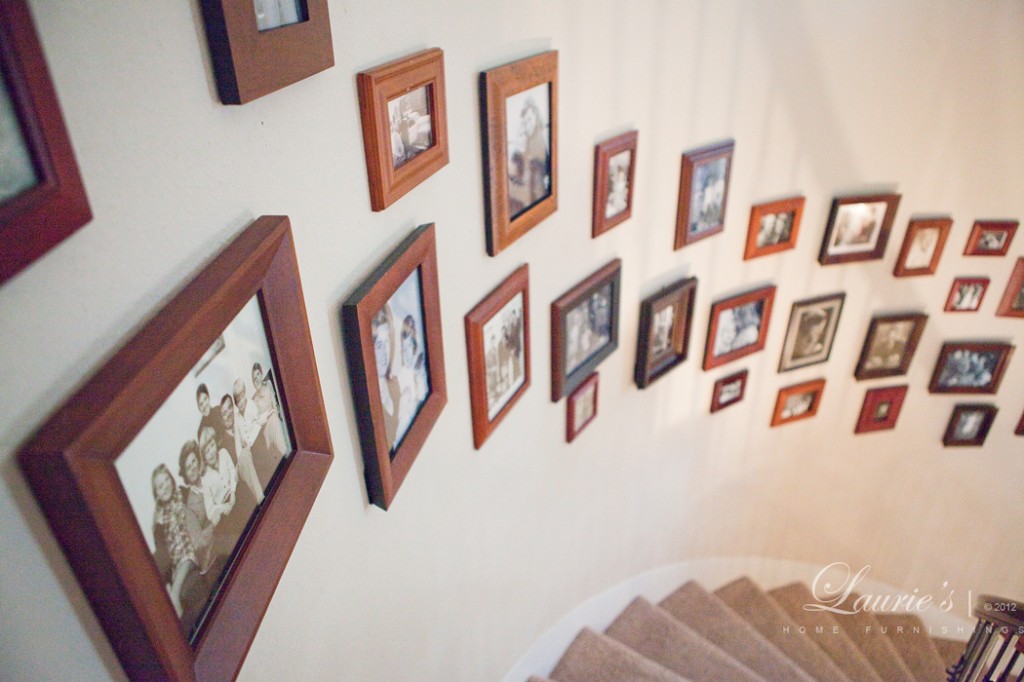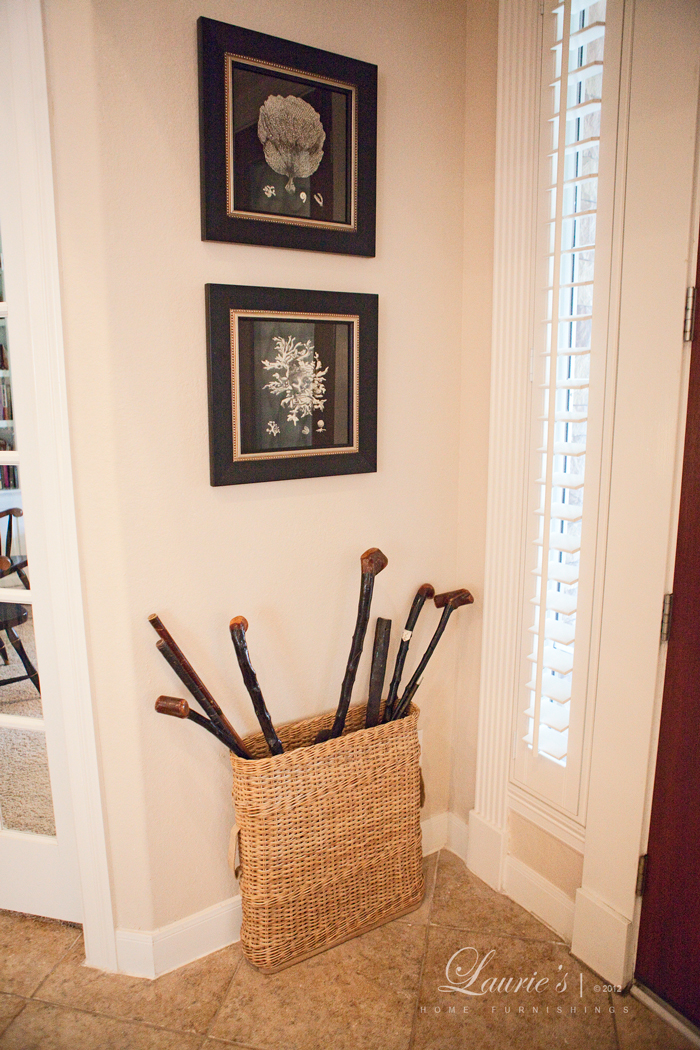 Case in point…are these shillelaghs or Irish

walking sticks made of exotic wood

which belonged to Michelle's father.

Decorating with sentimental details like

these make for interesting conversation pieces,

as well as, reminders of priceless memories.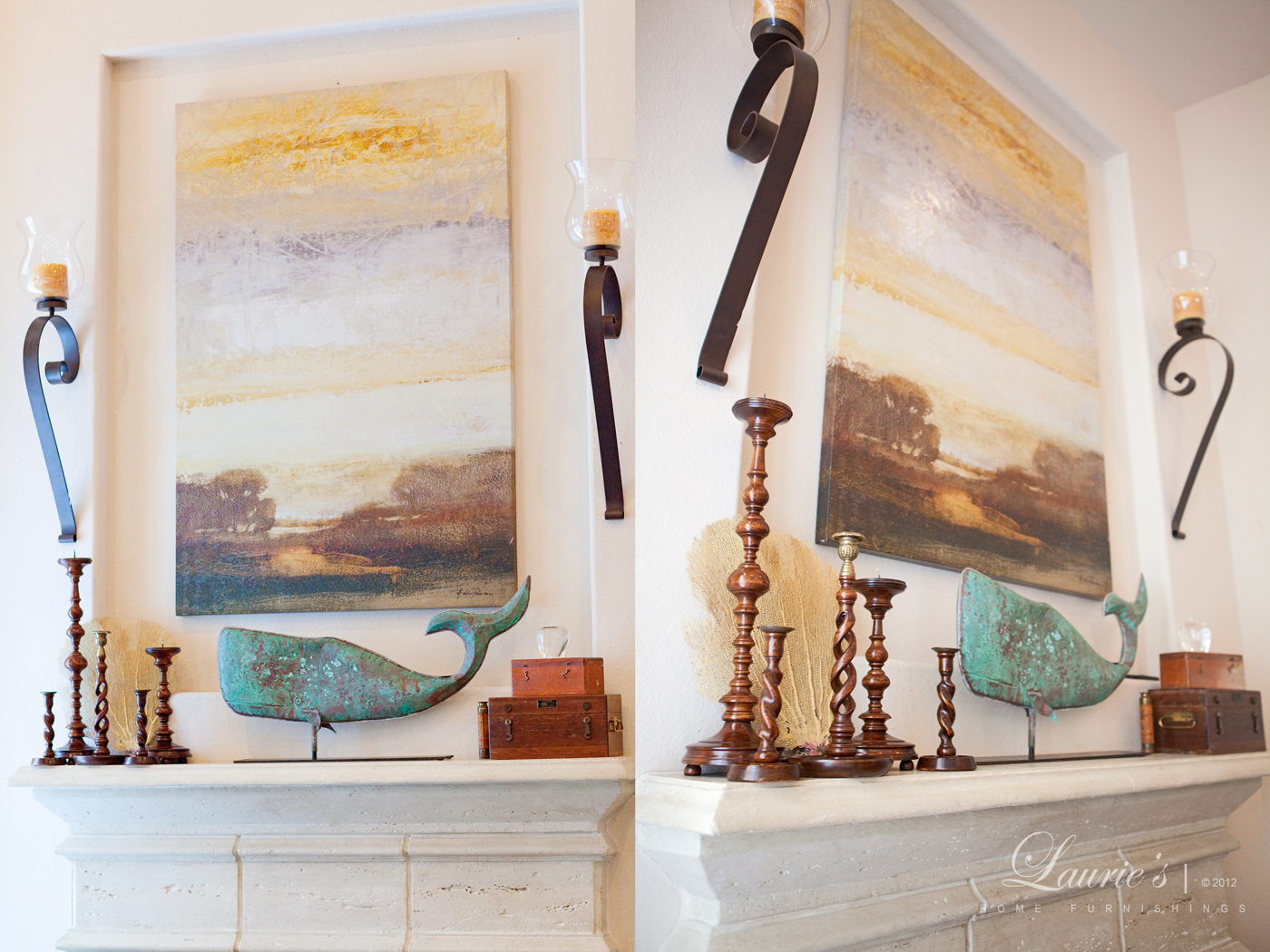 More collecting…barley twist candlesticks on the mantle.
The sconces, from Laurie's,
are a perfectly frame the art niche and the whale
adds just a touch of whimsy and color.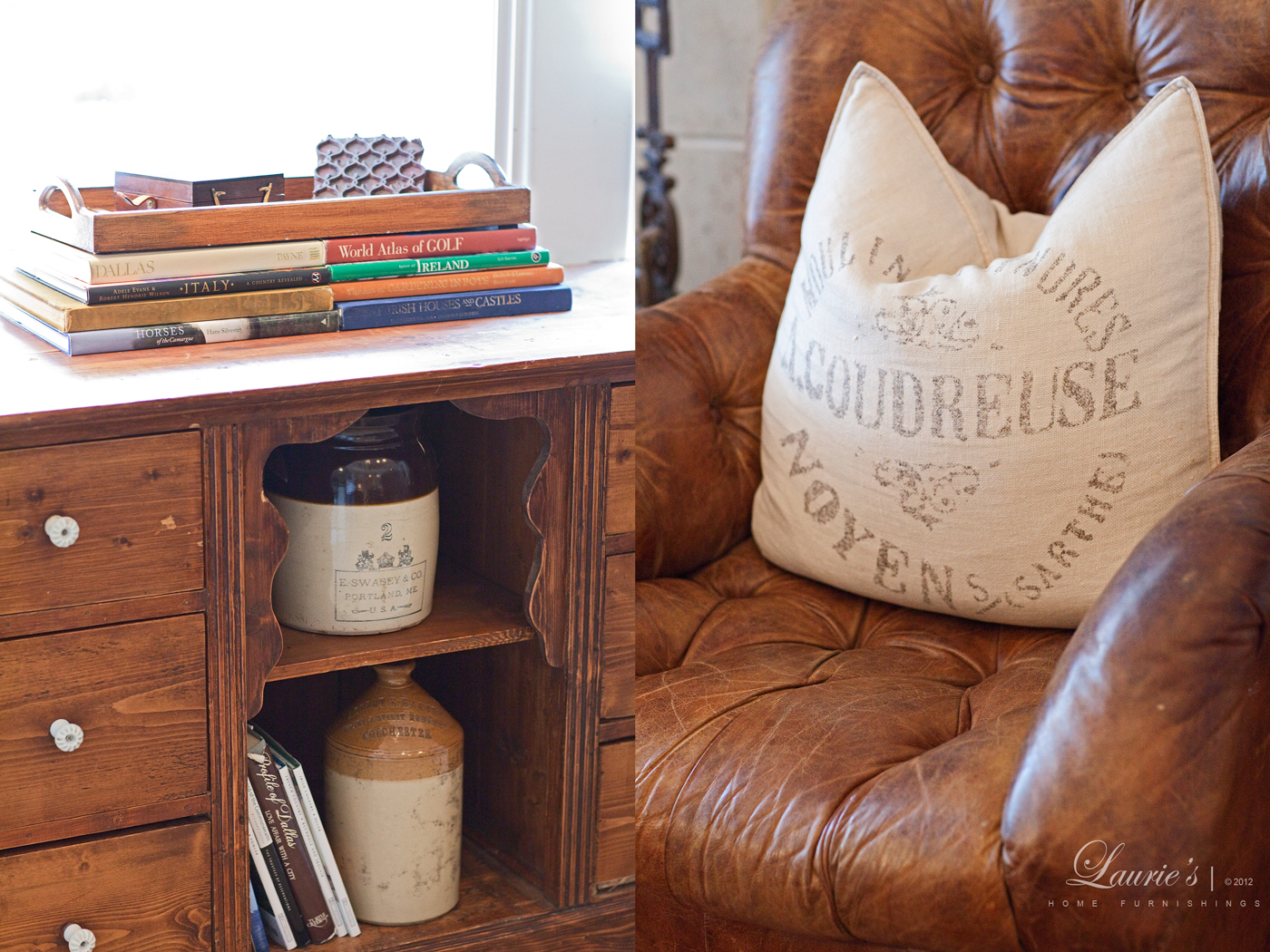 Vintage crocks are another collection with family roots.
The credenza is vintage Laurie's.
From a time when Laurie specialized in antiques.
This piece was once a store counter in Germany.
I love to imagine the sales that were made on it's top!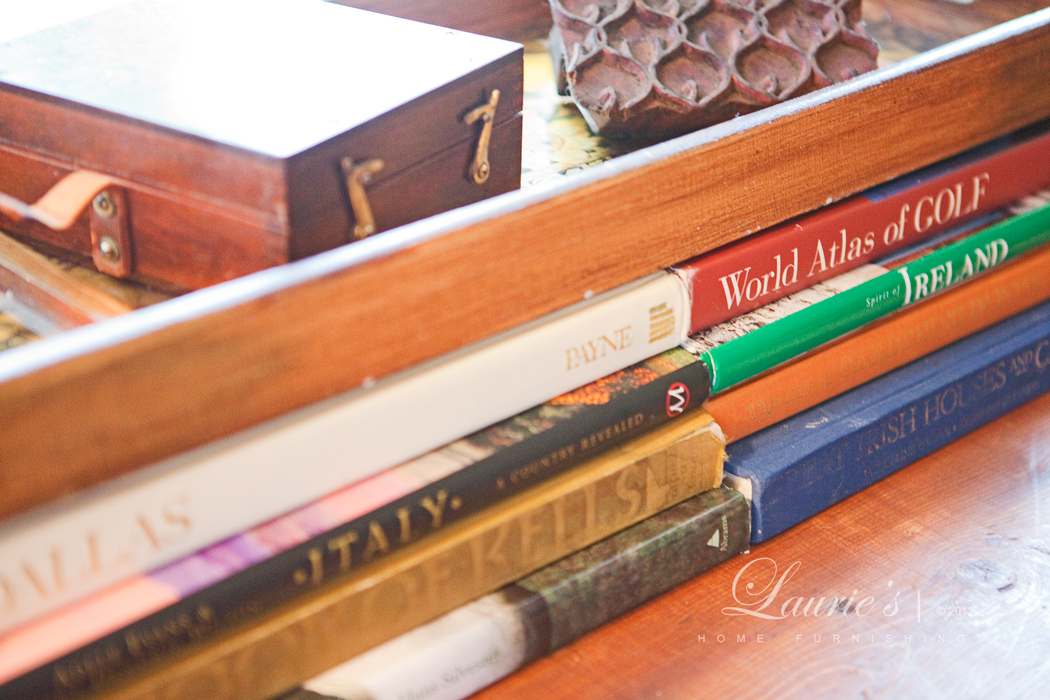 Michelle is a master with keeping in the same color palette
but making it interesting by differentiating  textures.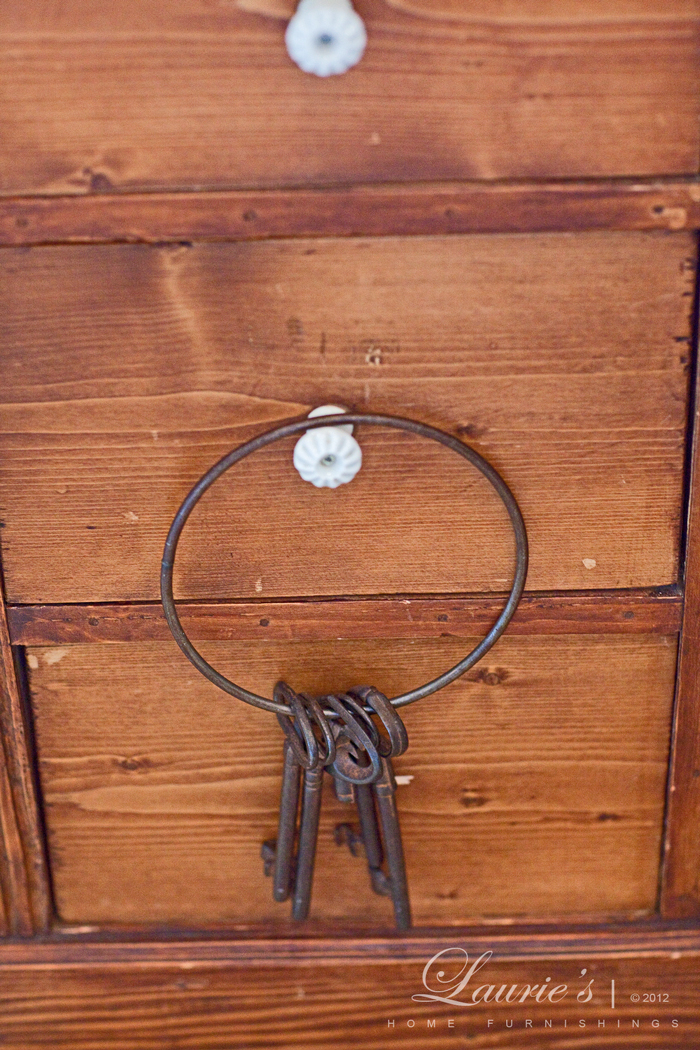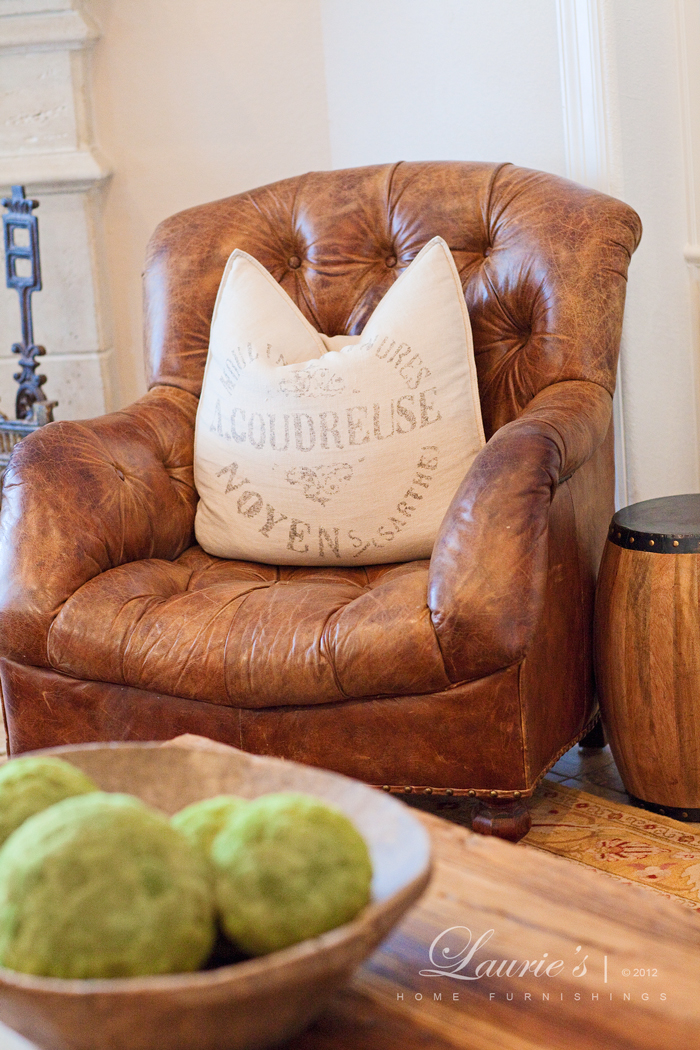 Can you tell I love this chair from Laurie's?!
I actually had more shots of it but decided it might be overkill.
It's just perfect balance of comfortable and beauty.
The vintage inspired grain-sack pillow is a lovely compliment.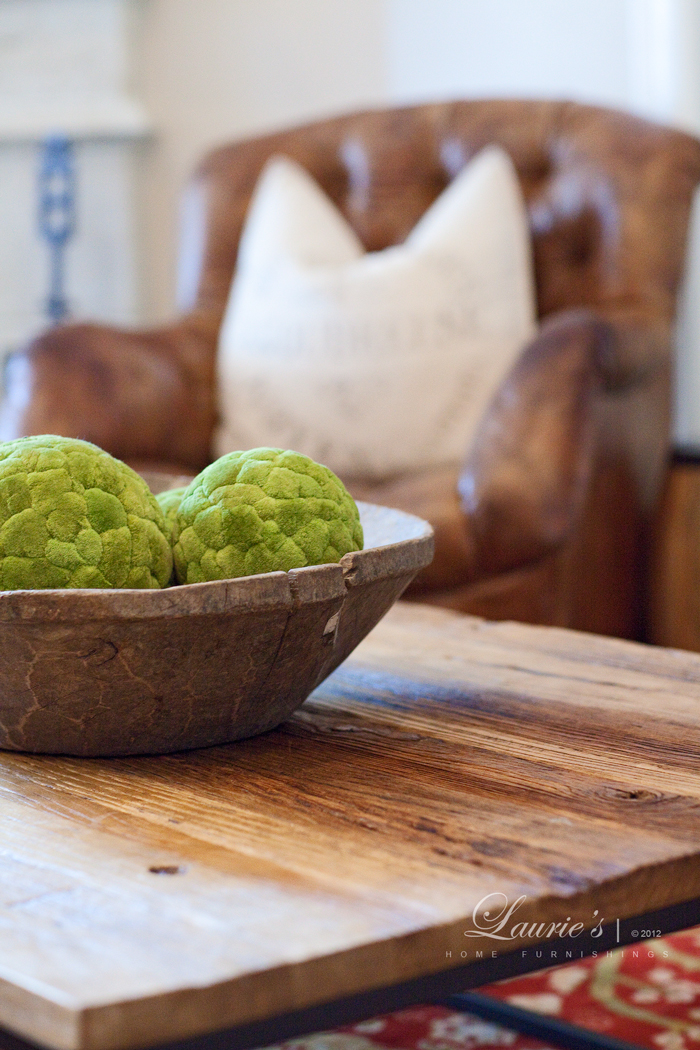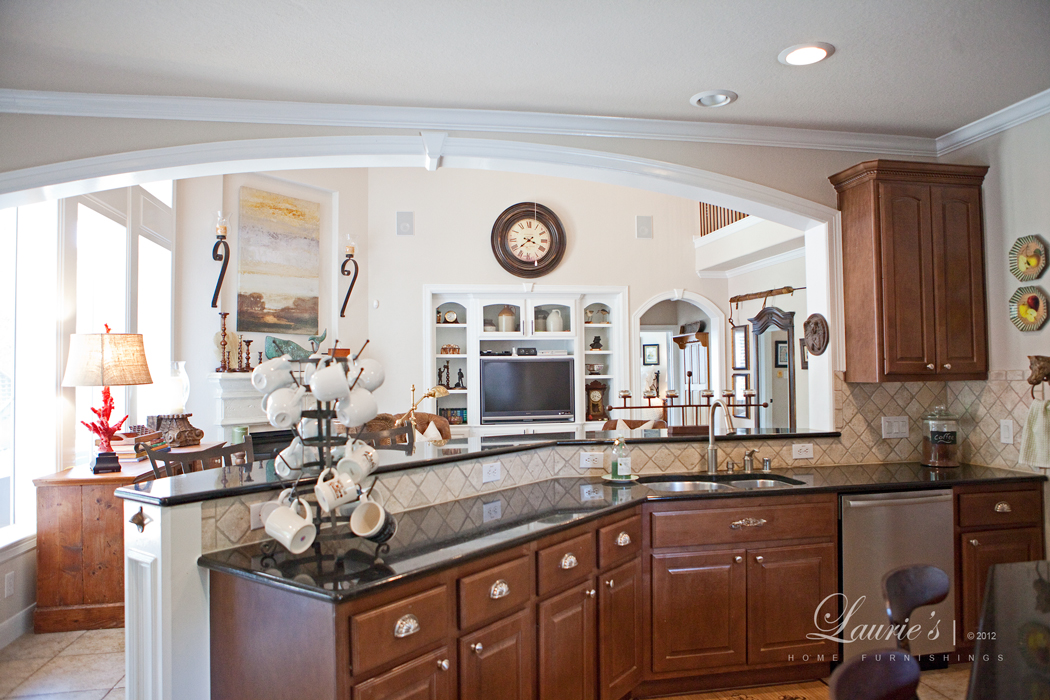 The Cooke's had all the moulding
millwork added after moving in several years ago.
They lend the perfect amount of charm to the
blank canvas a newer home usually is.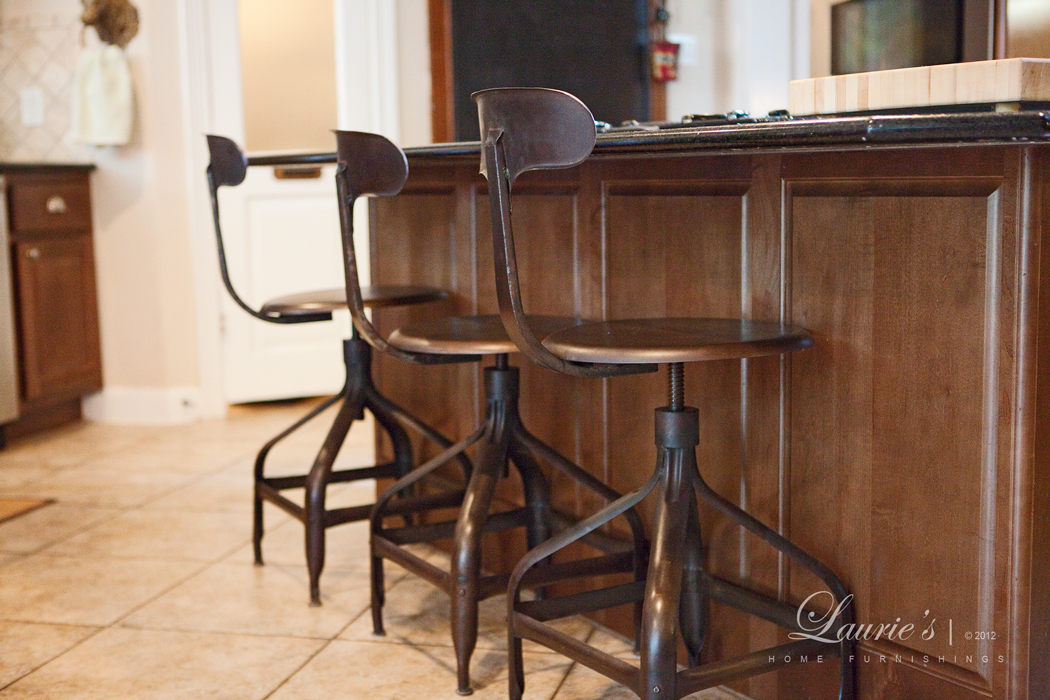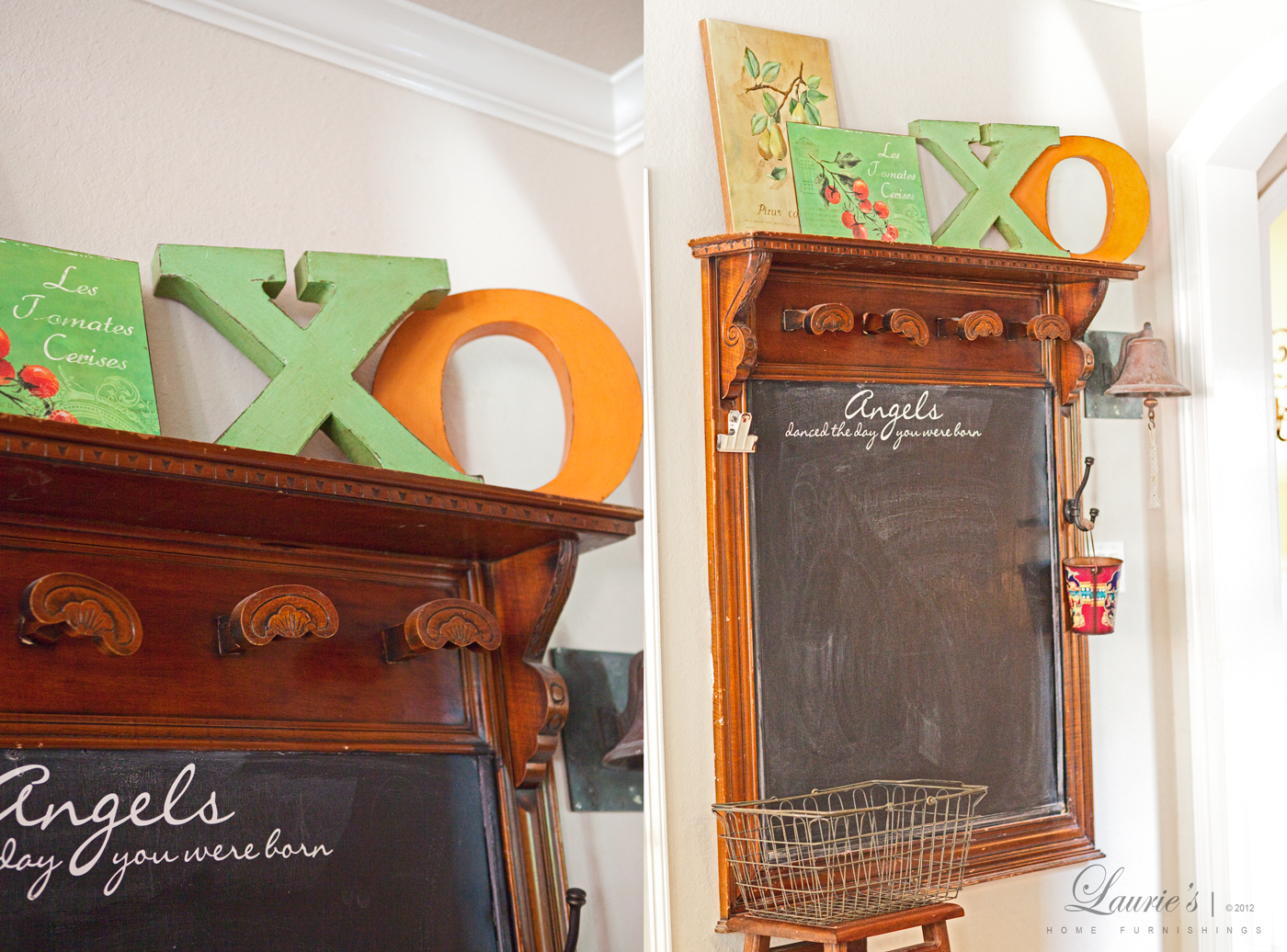 The family hub– goings ons and important messages
are not so annoying when displayed in a fun way!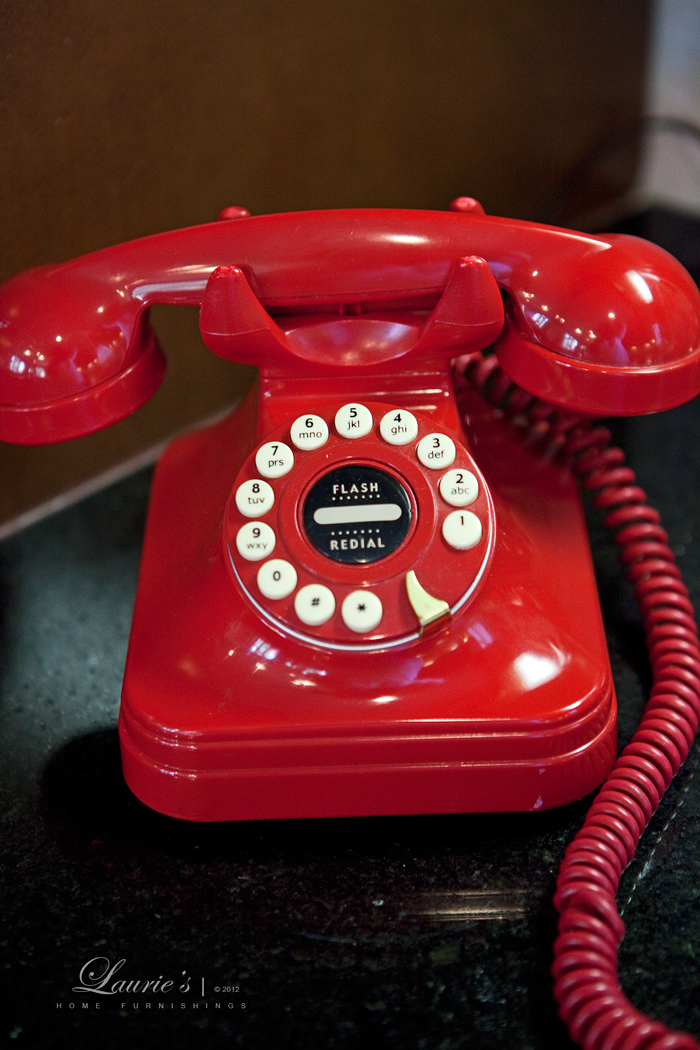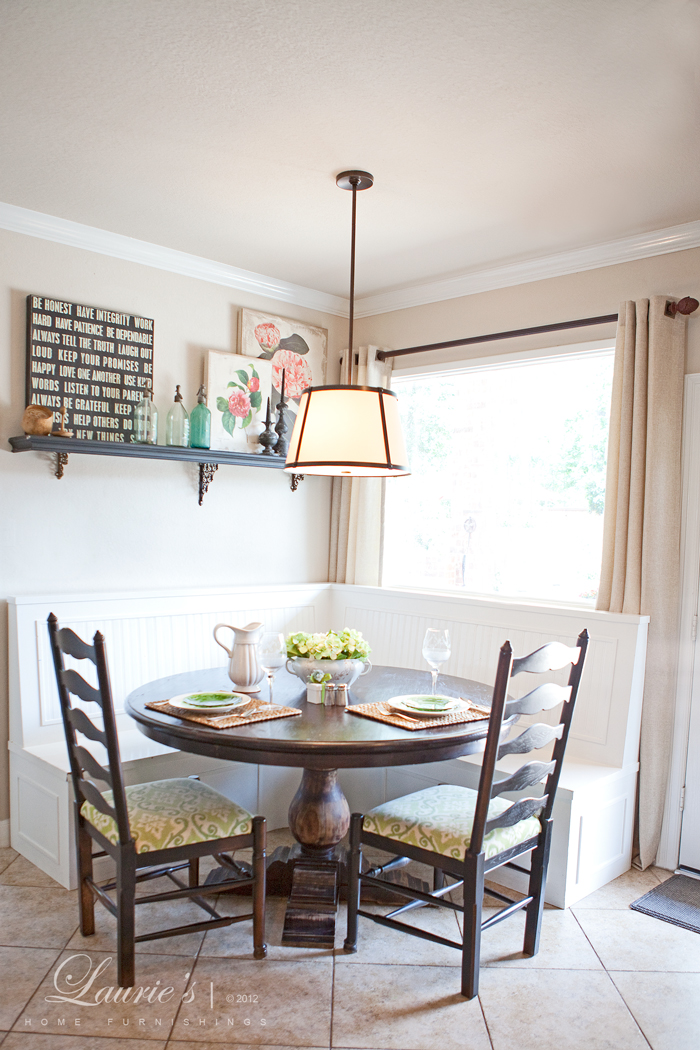 A breakfast banquet is a great solution for adding more seating and
creating a larger walk through.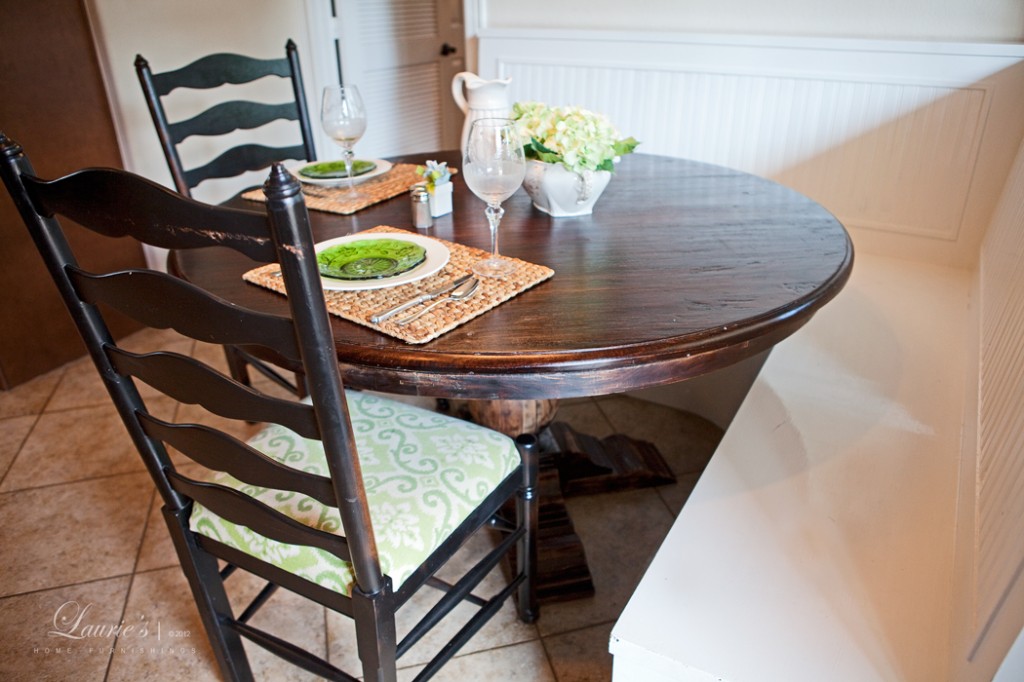 More Laurie's goodies!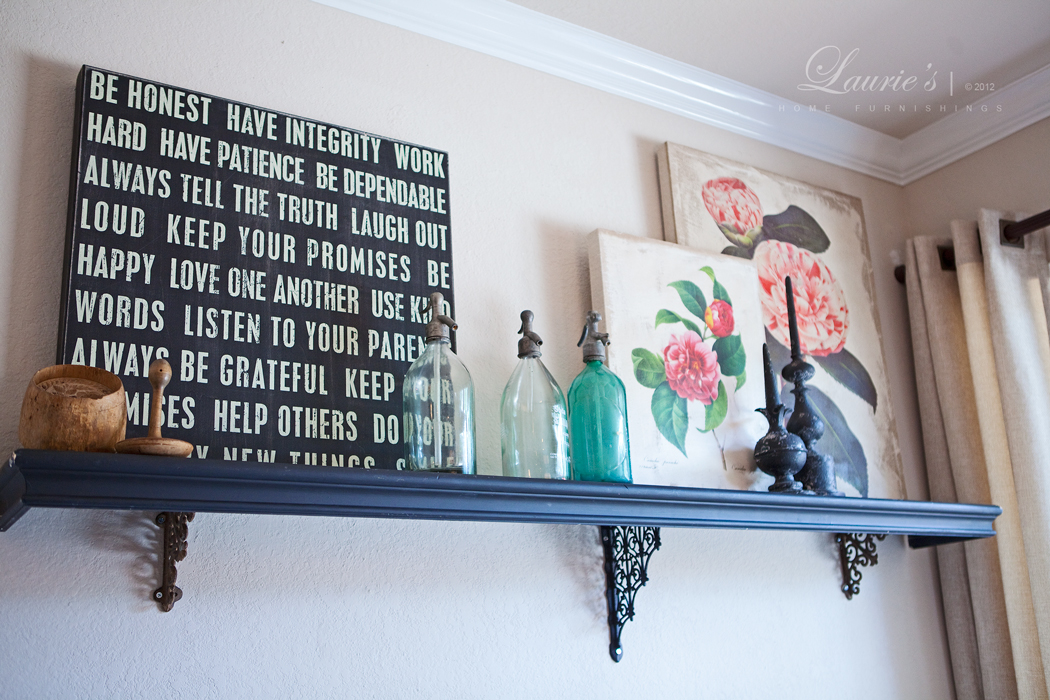 More collections! Seltzer bottles once used in a pharmacy now make
a lovely vignette!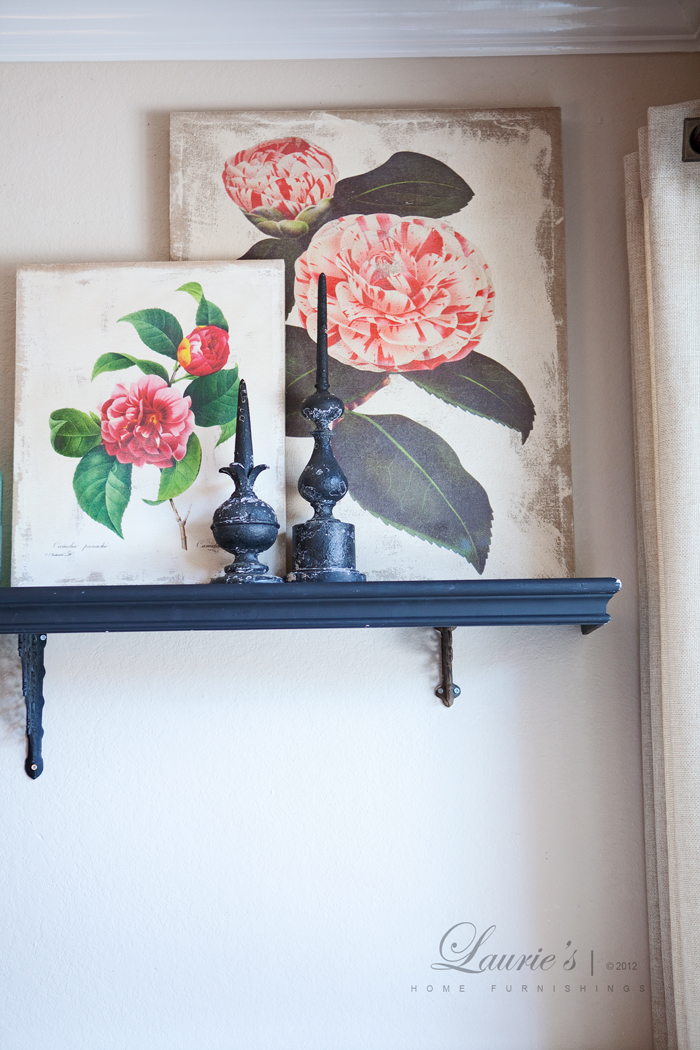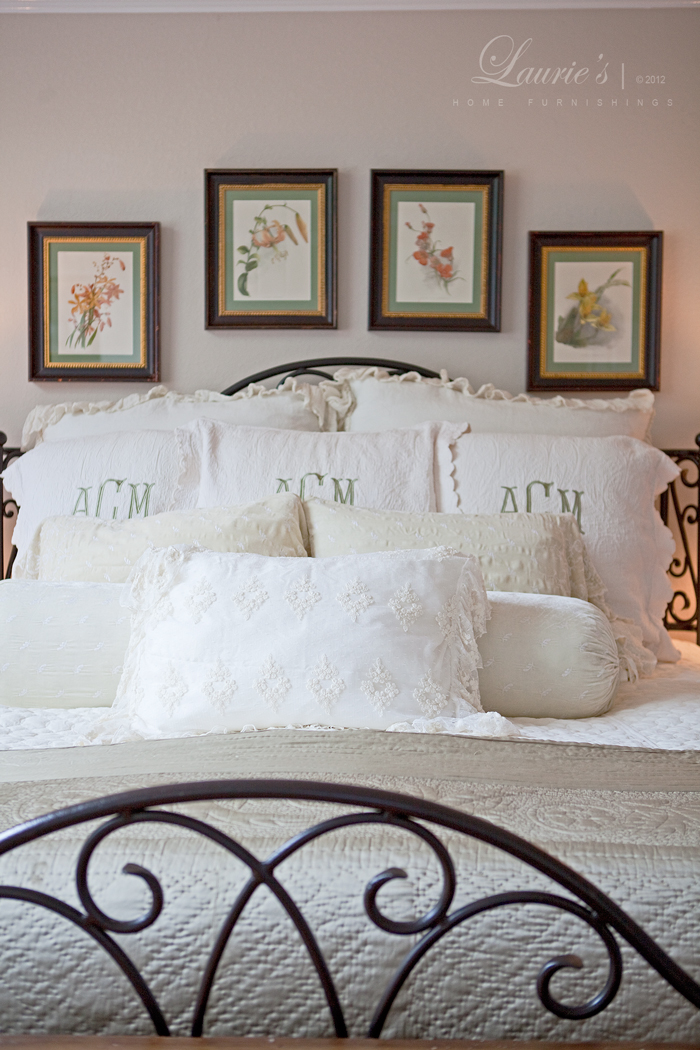 Bella Notte bedding found at Laurie's.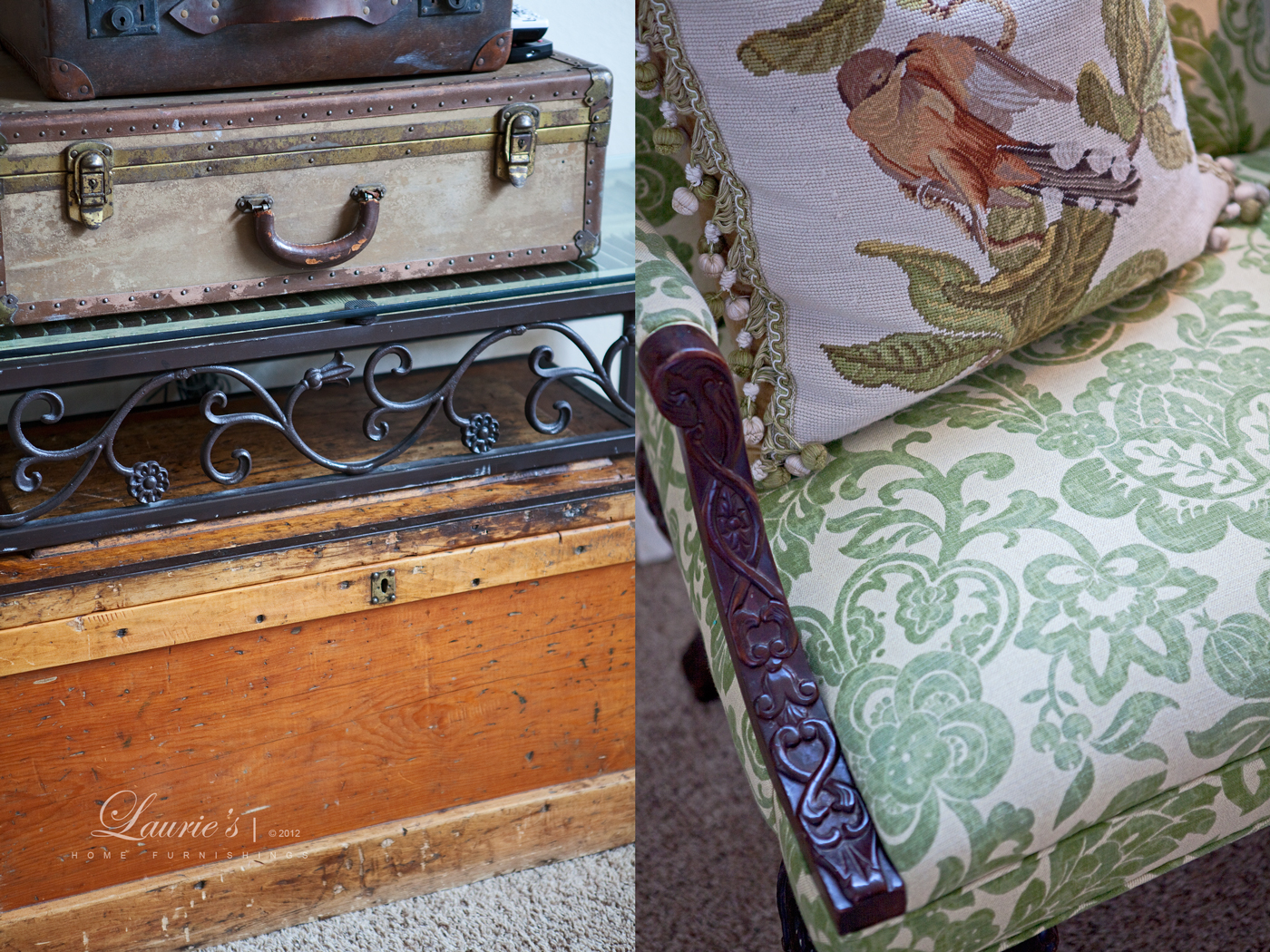 Dispersing a few selected accent colors throughout the room
coupled with vintage collections
bring all the details together.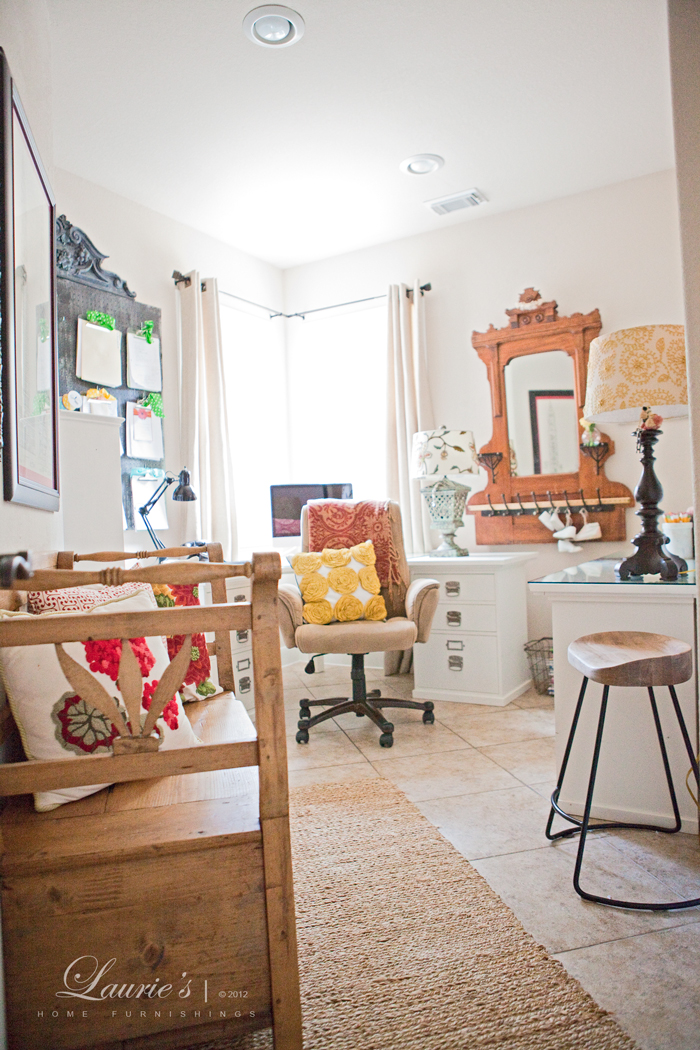 Don't you  love a girl who has a her own studio!
I can't really call it an offic b/c it wouldn't do justice
for the artsy look. So jealous of this
small but perfect space just off the master bedroom.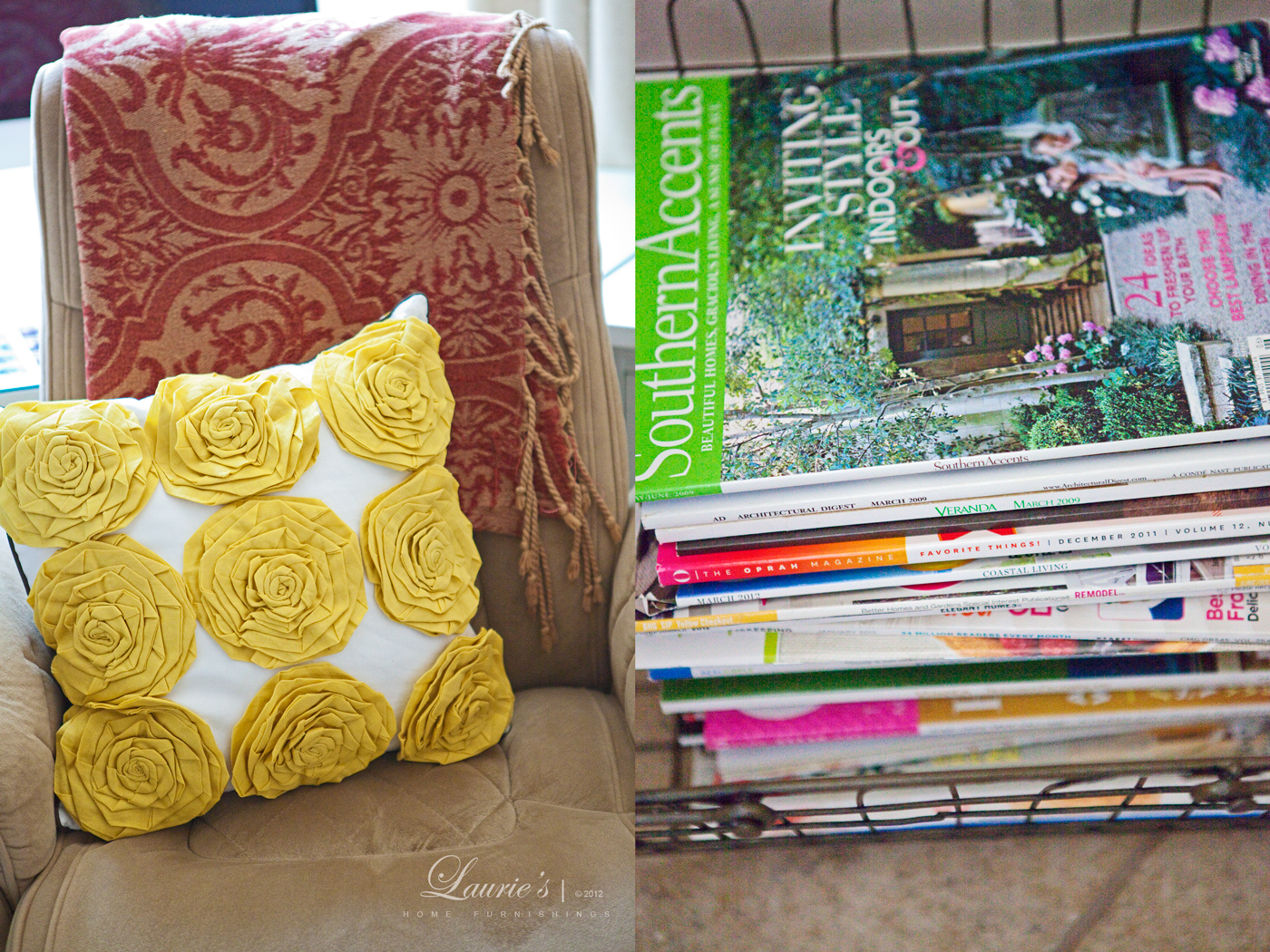 Besides, who has rosette pillows in their "office".
Clearly this is a space where amazing ideas are born.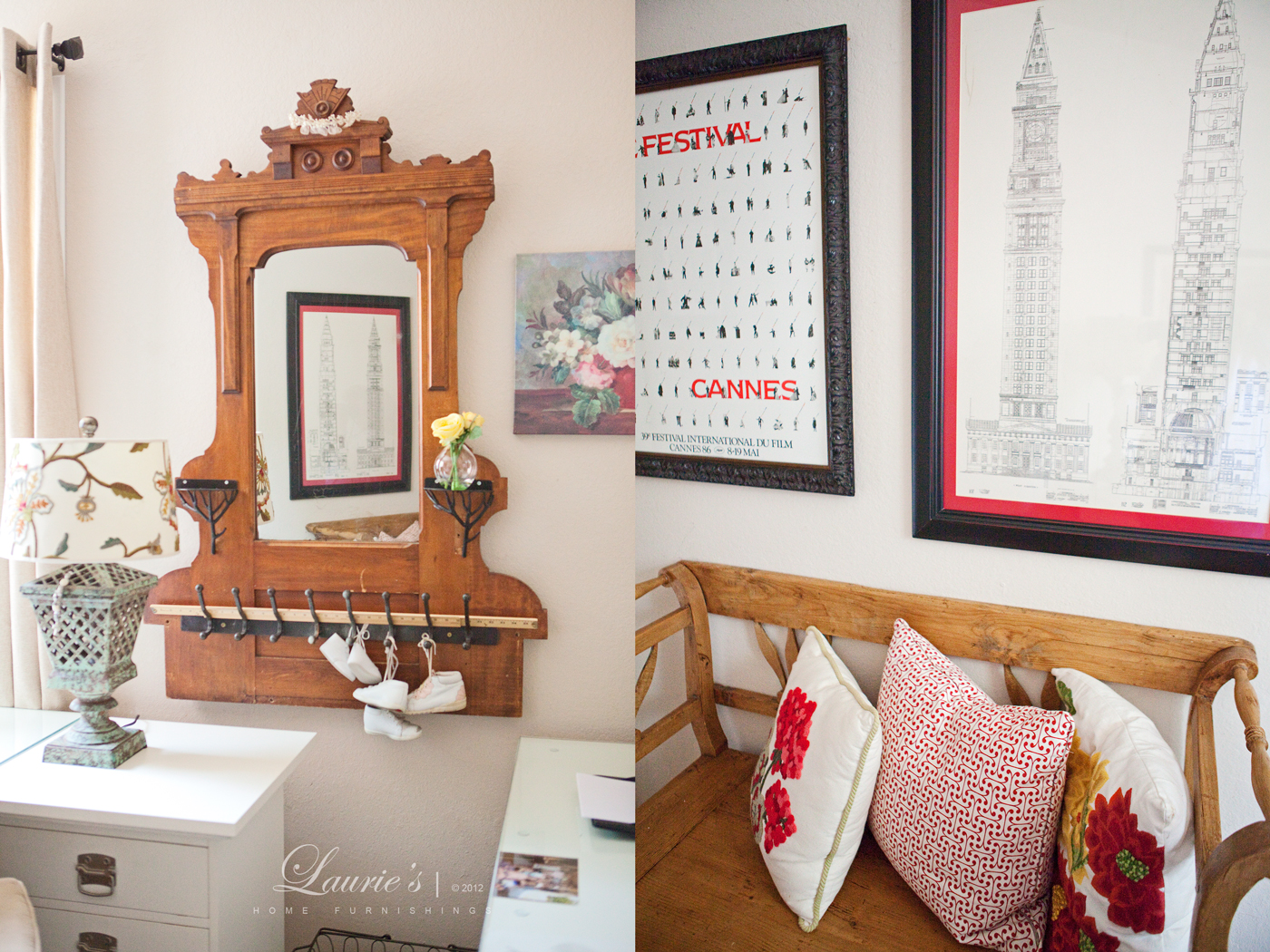 This is part of what I love about Michelle's design approach.
She decorates with neutrals, a pop of fun color,
and then accents with items that are meaningful to her.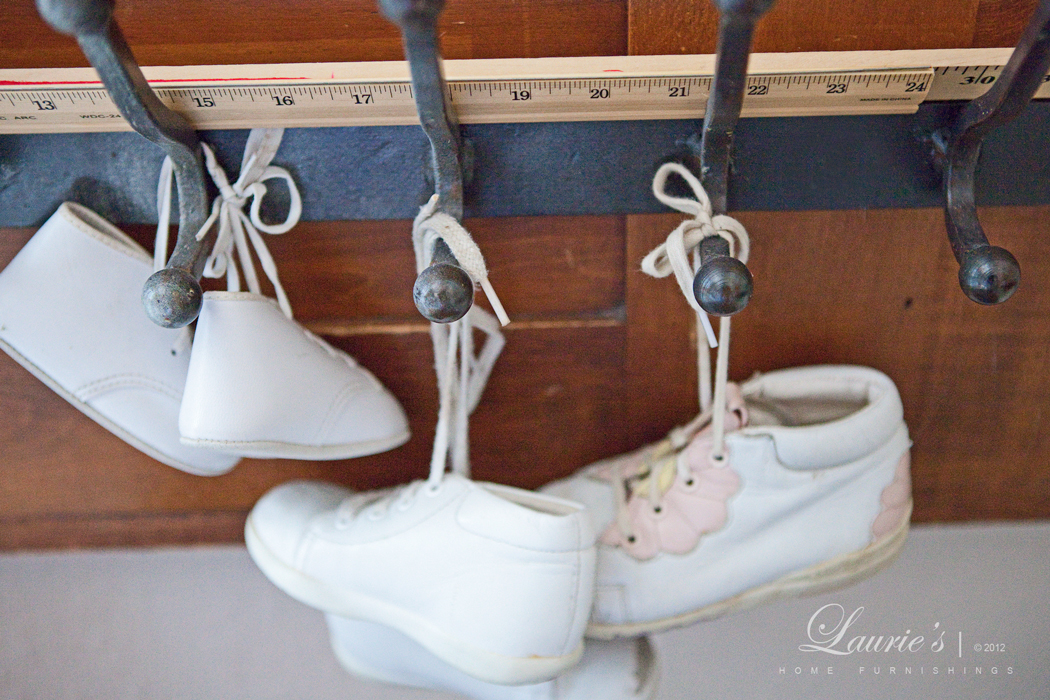 Case in point– baby shoes! These were her from her own babies.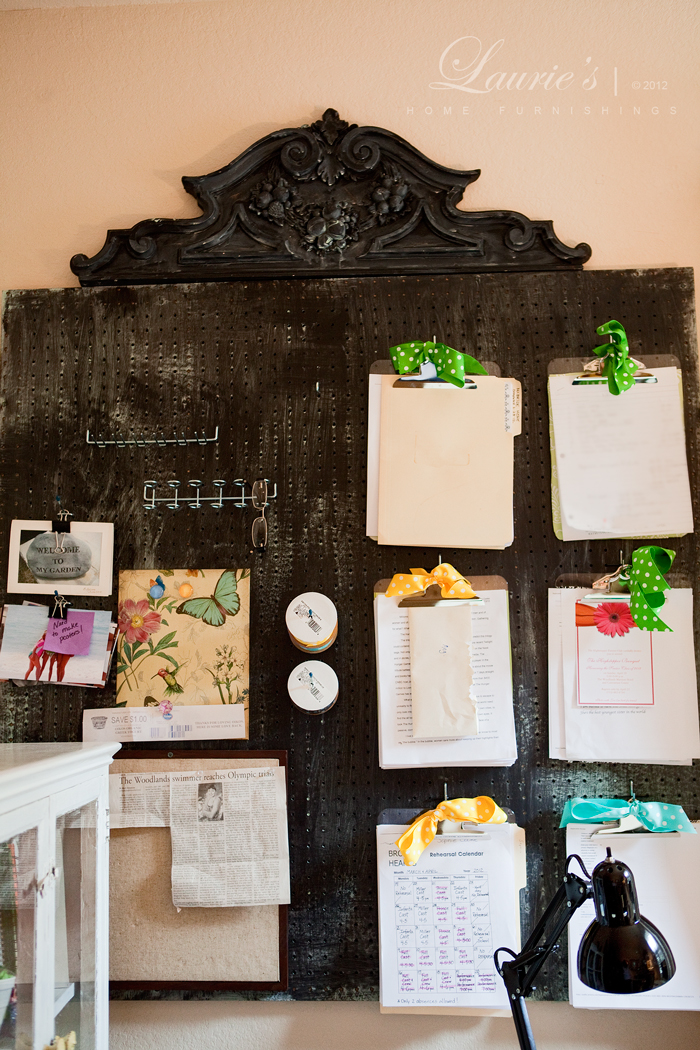 A functional but artistic board Michelle
made from painting pegboard and adorning
with a matching carved filagree to
house calendars, reminders, and inspiration.
I suspect this will be on Pinterest before day's end!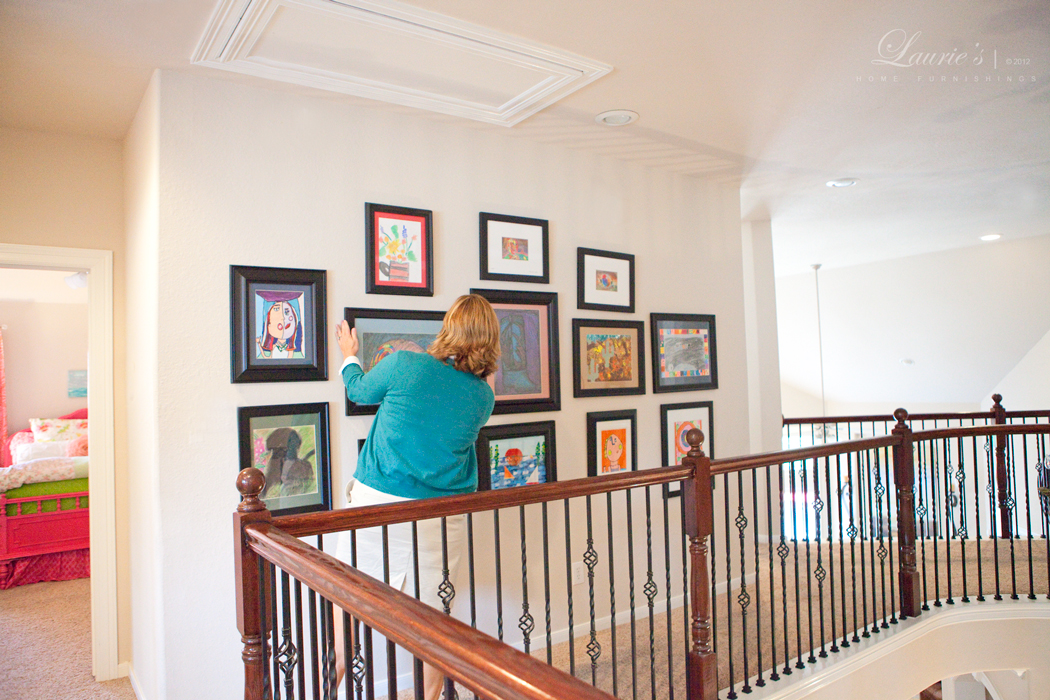 This is where I feel we can most explain why Michelle's home was
perfect for a Mother's Day post.
A gallery of what I can only describe as
award winning art adorns an upstairs hallway.
Perfectly grouped, displayed and brought together
with various black frames.
Picasso would be impressed!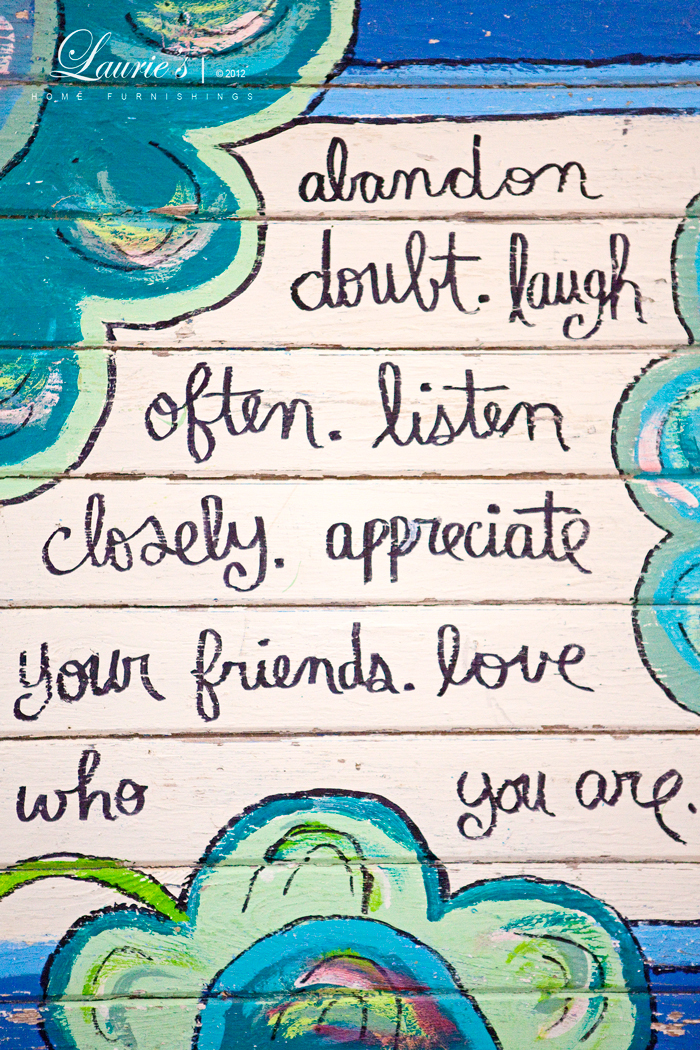 Speaking of Picasso…
Michelle's den is an example of how an artistic eye
can balance bright colors and
fun elements while making a room
functional and pretty awesome too!
This piece was purchased from an artist in Round Top.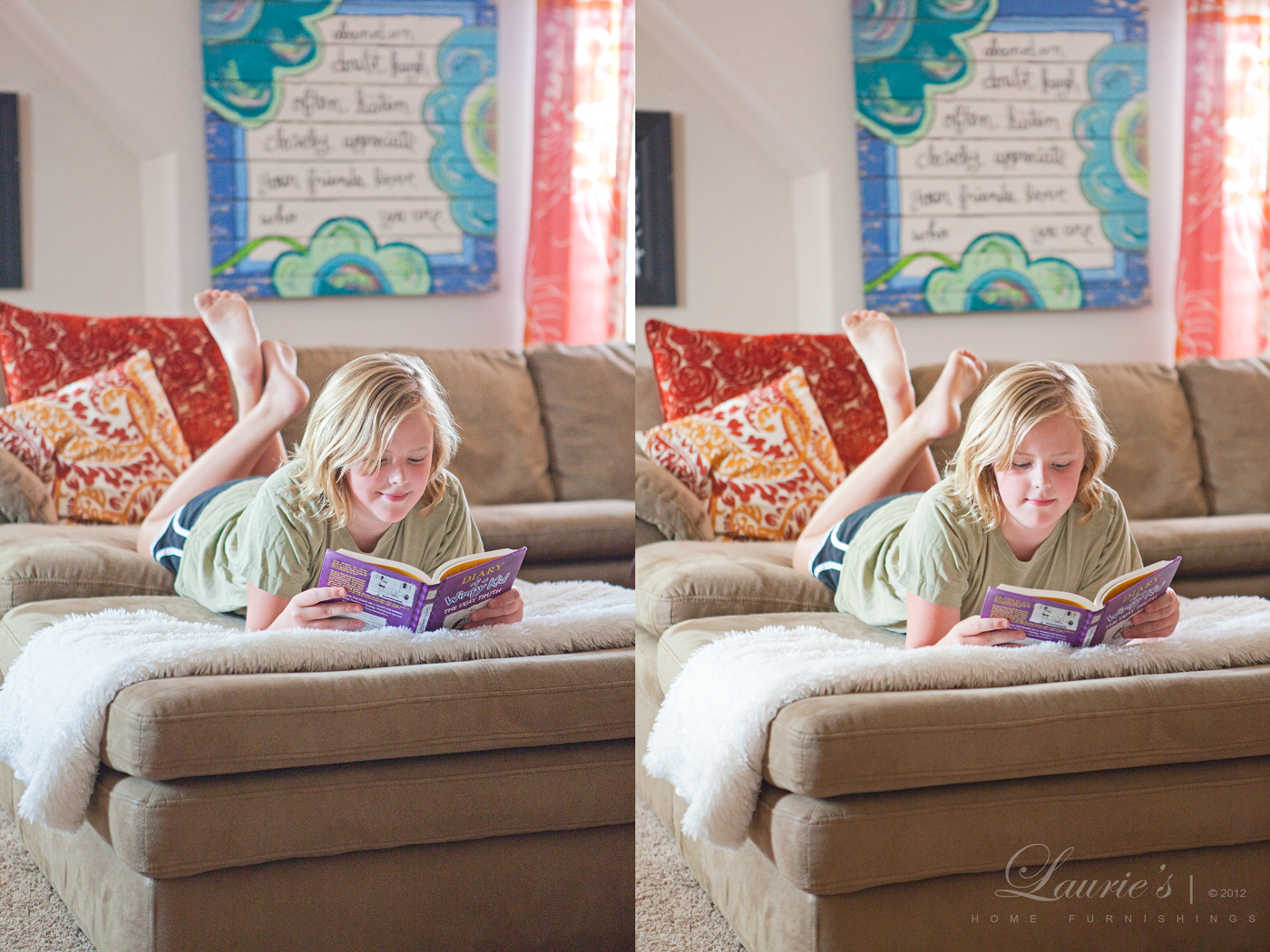 1/4th of the adorable Cooke girls enjoying an afternoon read.
Michelle's influences are all over the place….
from Anthropologie to Target to flea markets.
And of course her favorite place to shop— LAURIE'S!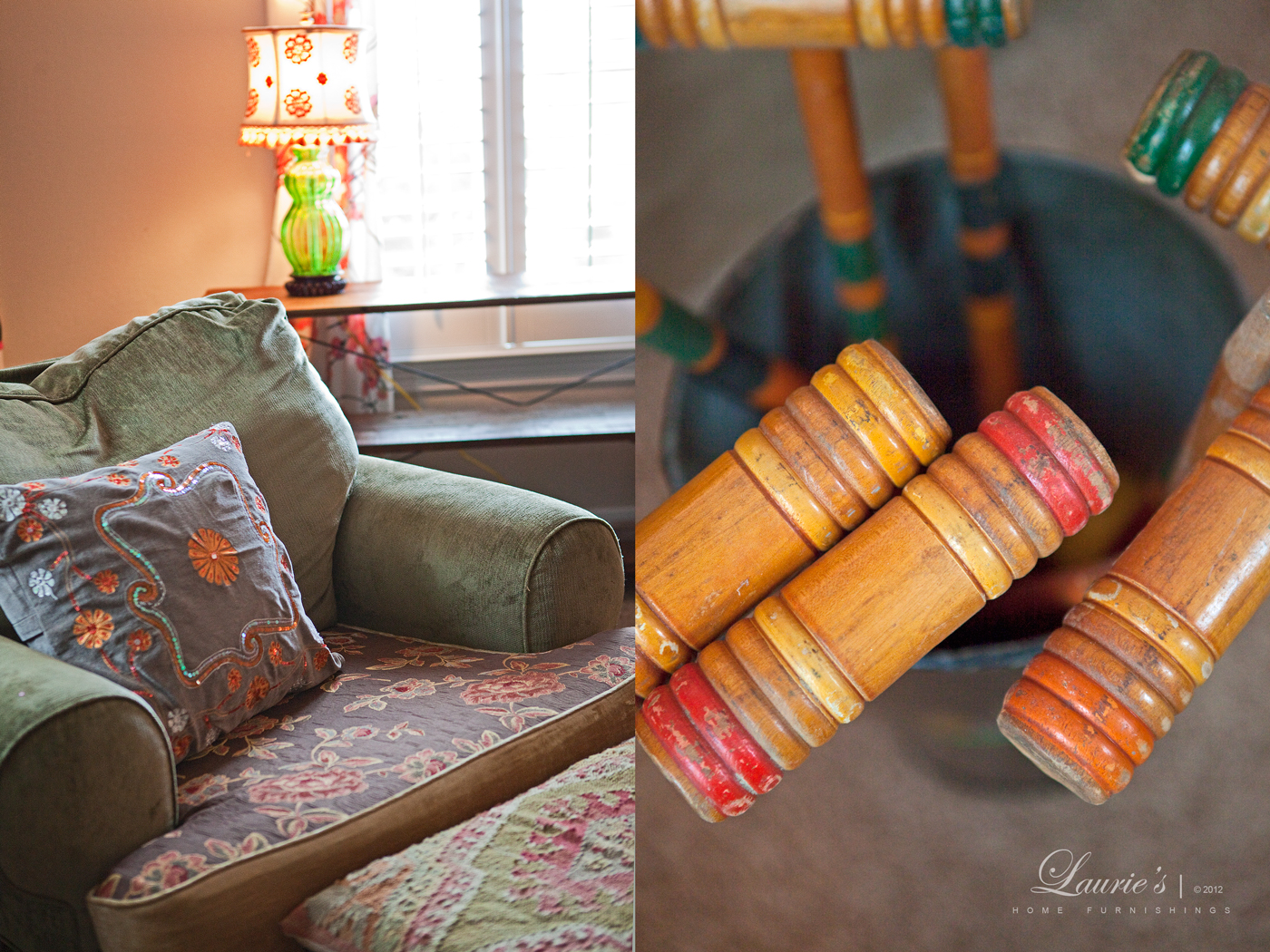 Now comes the AMAZING bedrooms Michelle has
designed with each of her
girl's personalities in mind.
As most people know– designing for ONE child's
room is a sufficient challenge in itself.
Why is it so hard? I have a list!
1. both parent and child are happy with
2. can "grow" with the child
3. is economically feasible
4. time to put it all together!
Inevitably resulting in jelly butterflies
cling ons, beiber posters, and  fuzzy weird pillows on the floor!
Or even worse never completely finishing
— YIKES — and then feeling like you've been defeated.
Michelle, gave each of her 4 daughter's
rooms their very own personality
and made it look so effortlessly I was in AWE at each one!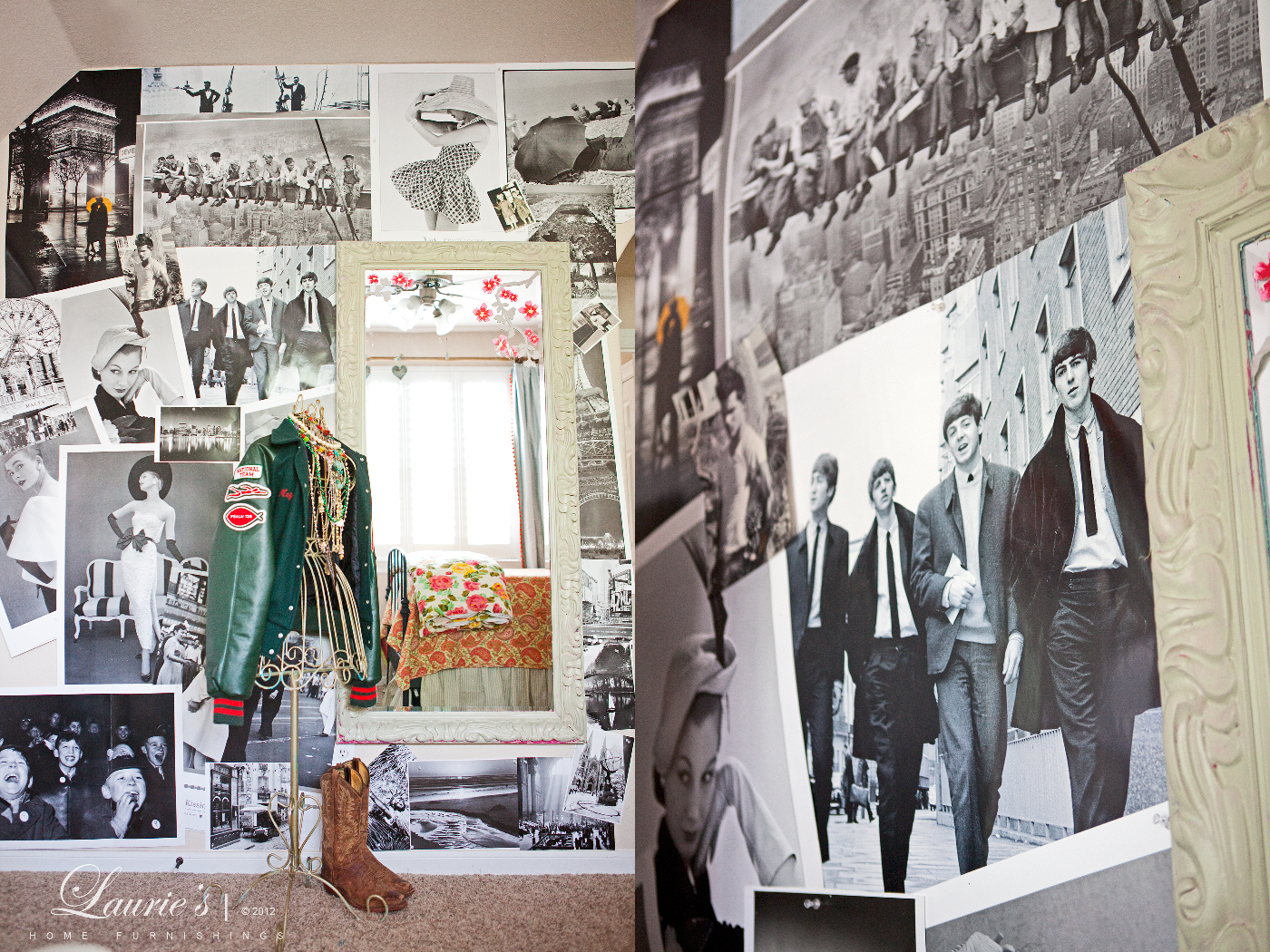 For Michelle's eldest daguther, a sophisticated yet poetic look.
She ingeniously took large black and white posters
and randomly placed them on top of each other to
create a fun accent wall and all with TACKS!
For those with design commitment issues this rocks!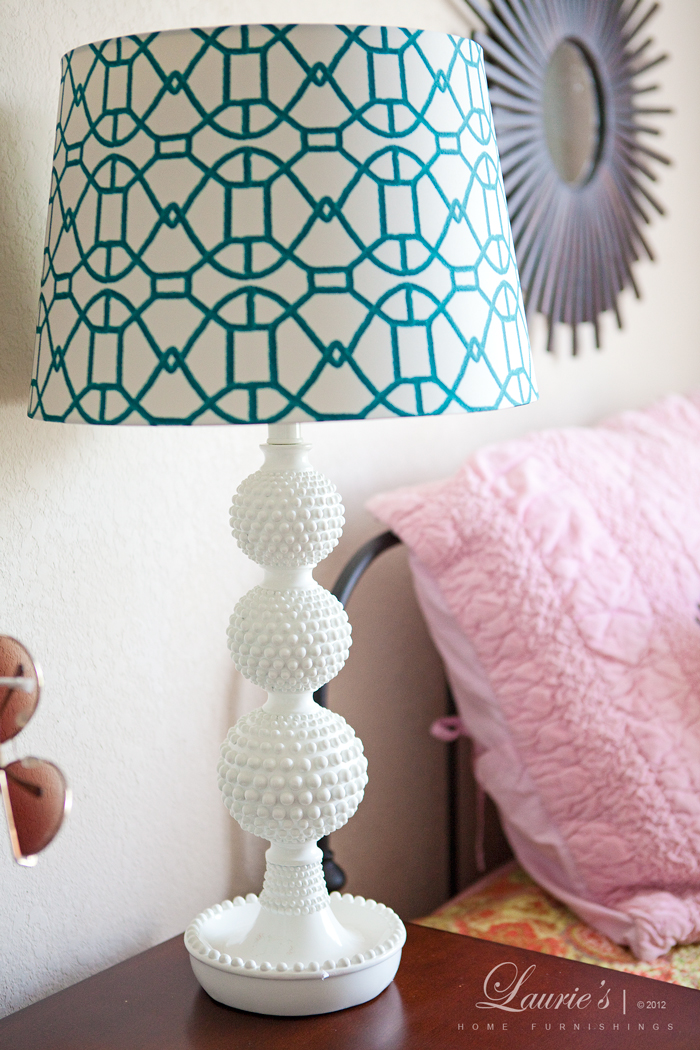 Fun hobnail lamp to mix up textures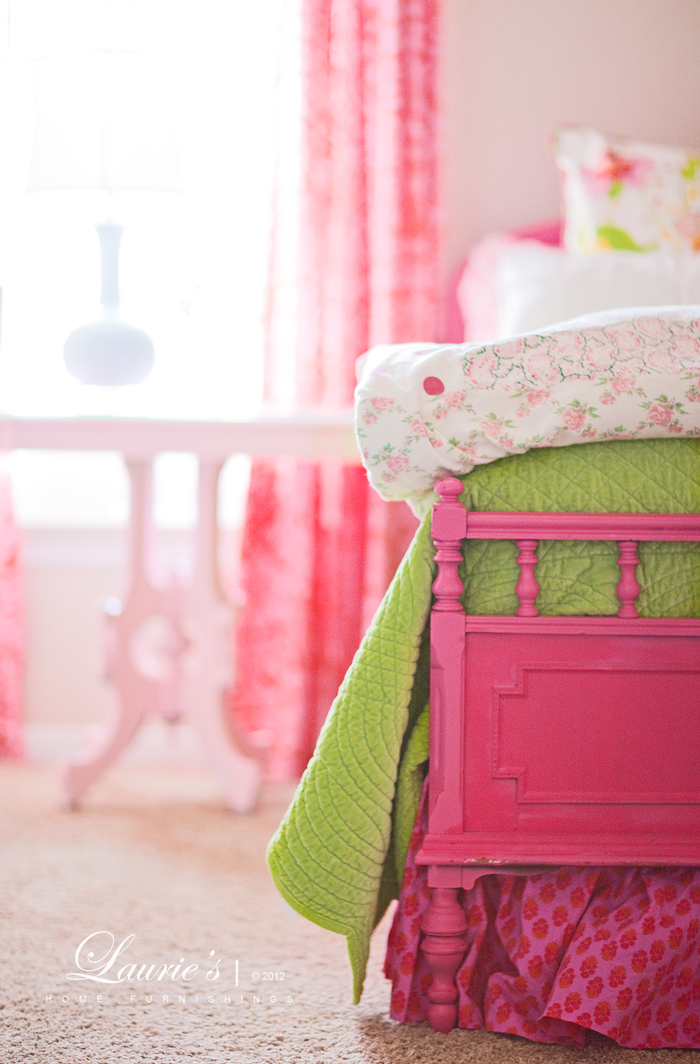 Next bedroom for her youngest daughter…
Various shades of pink and green.
So many favorite elements here!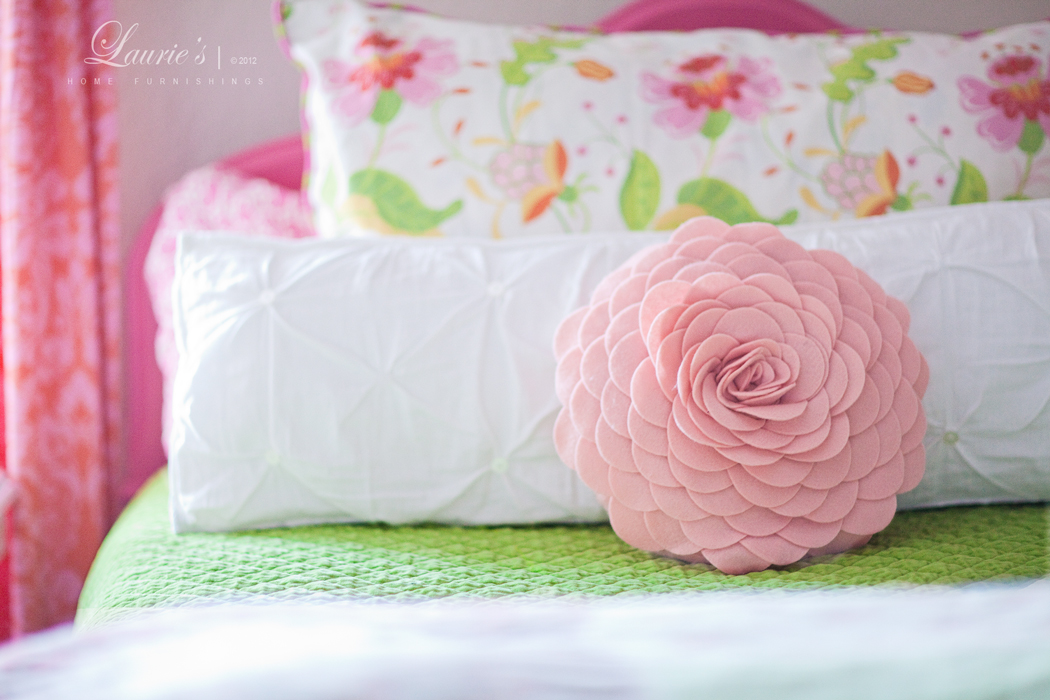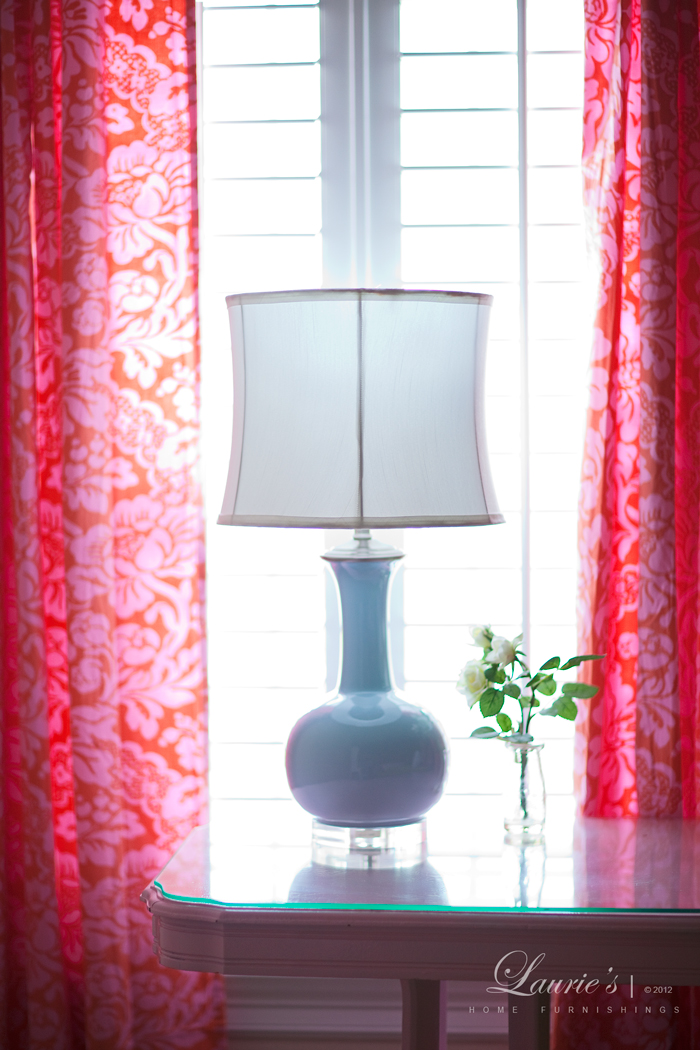 This is for you chickens out there (present company included)
who have those amazing pieces of furniture that you just can't get rid of
and really want to use but just can't make work….
Michelle took this vintage bed frame and painted it a shade of fuschia that
was so full of life that it actually did CPR on the old bed and revived it!
True story.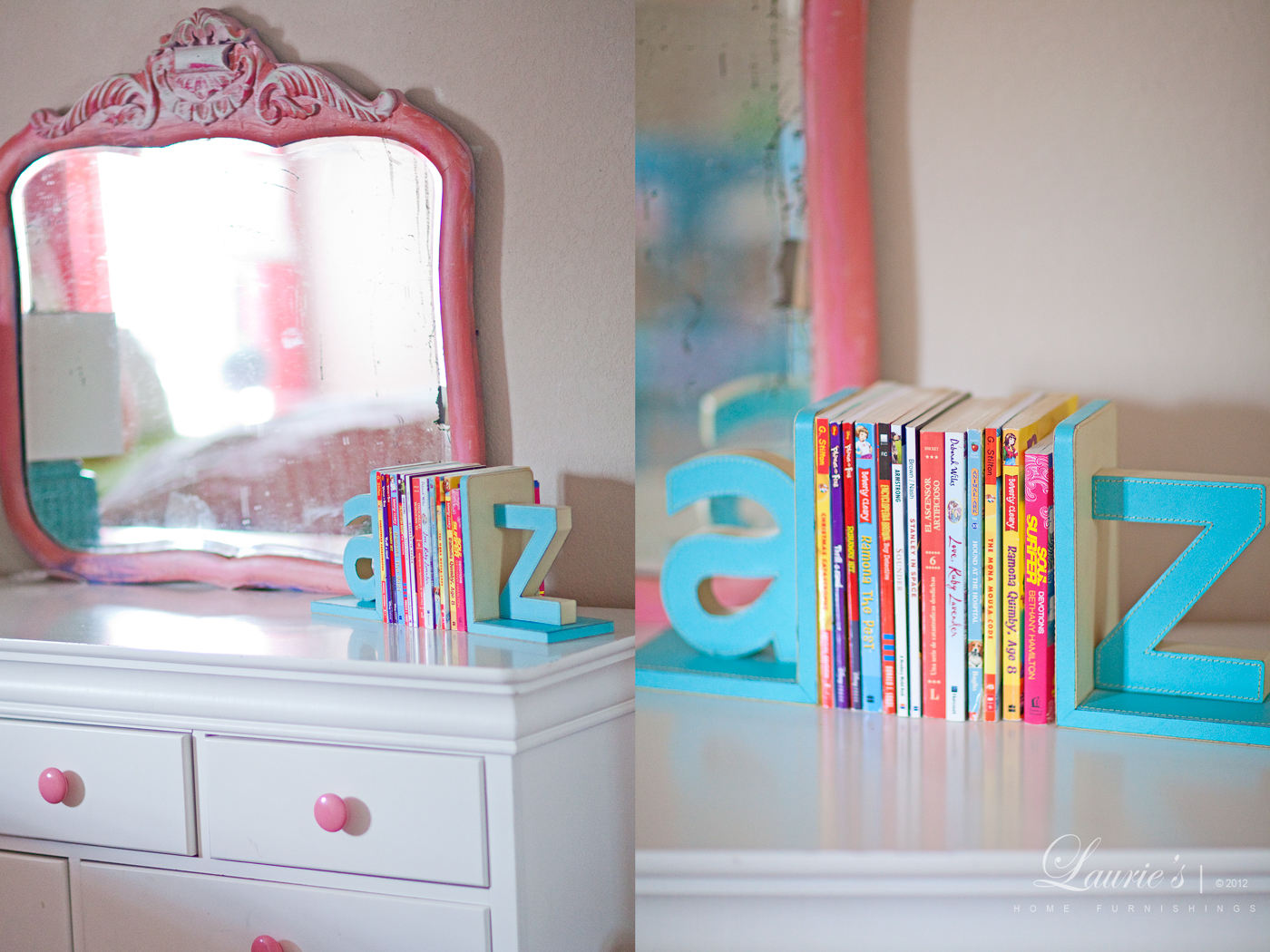 Same story with the dresser mirror
which was Michelle's as a child.
What a profound accent piece…who knew it would be
her daughter's reflection looking back one day…
sigh….
Just another episode of Michelle's influences
from everywhere–  House of Nod, Z-Gallery,
Target, TG Max, Horchow, and of course LAURIE'S!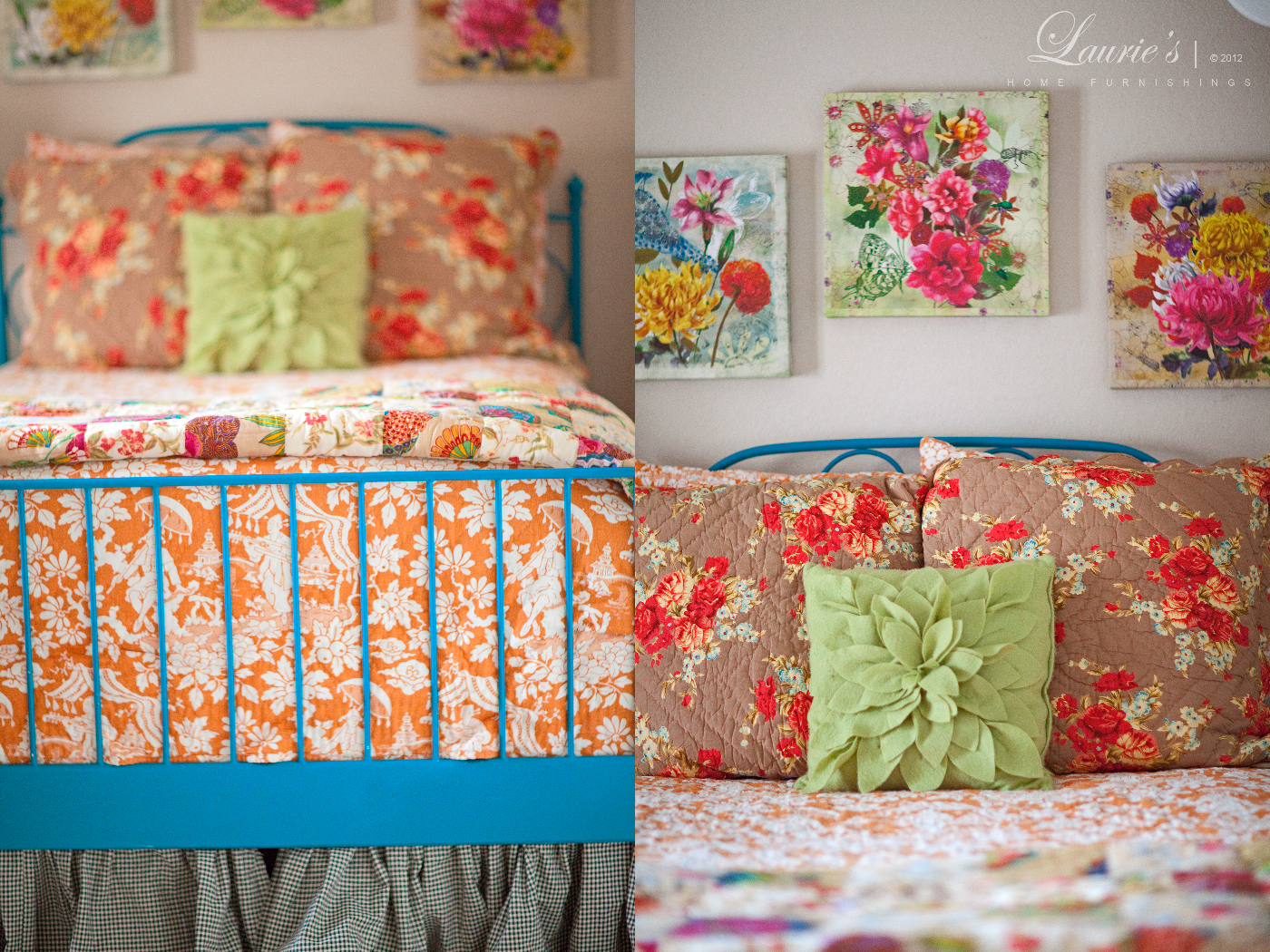 Ikea spray painted  bed
and mix of bedding from everywhere including Laurie's!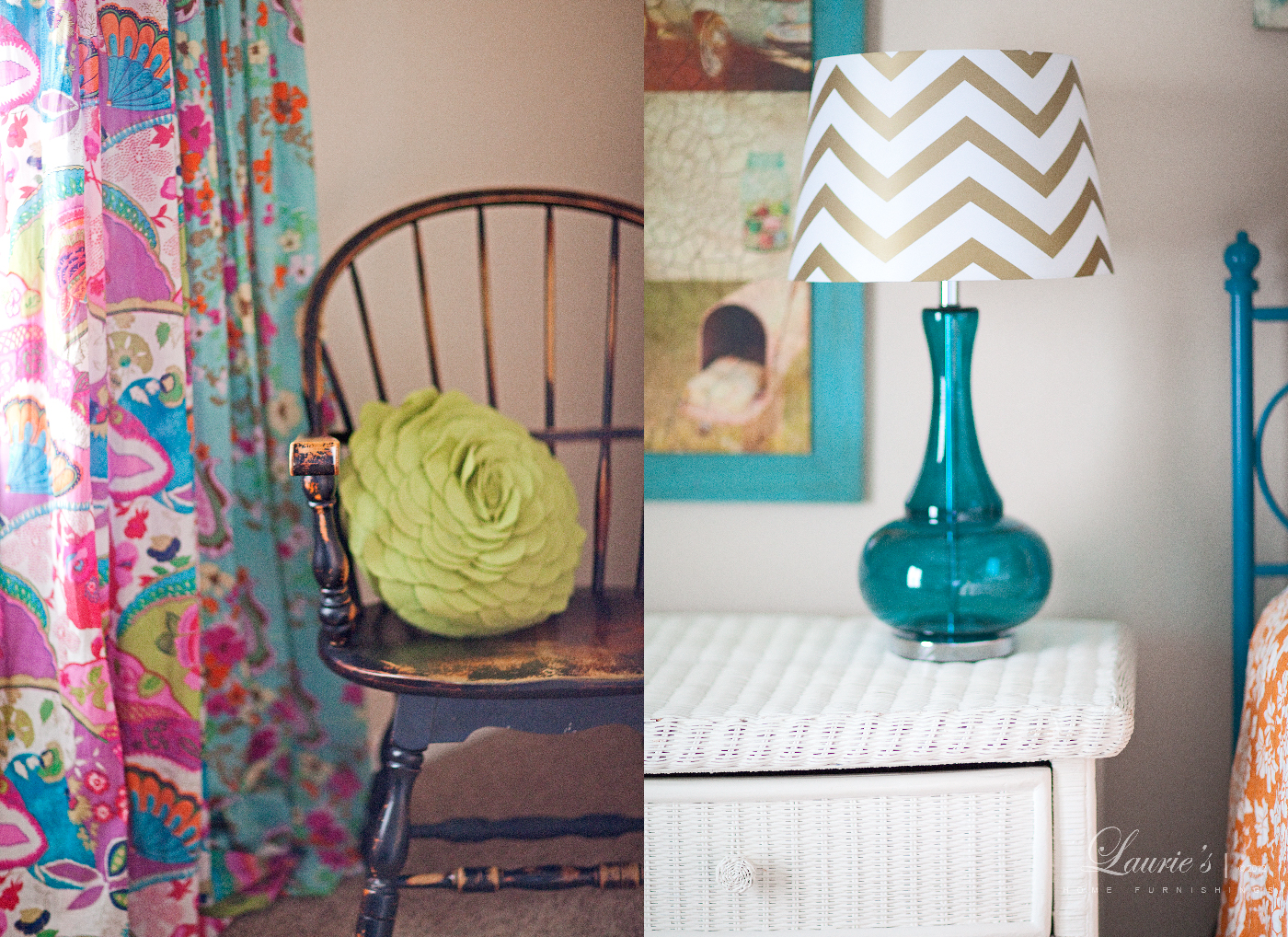 See what I mean about a balance of color?!
Michelle– you are truly an artist!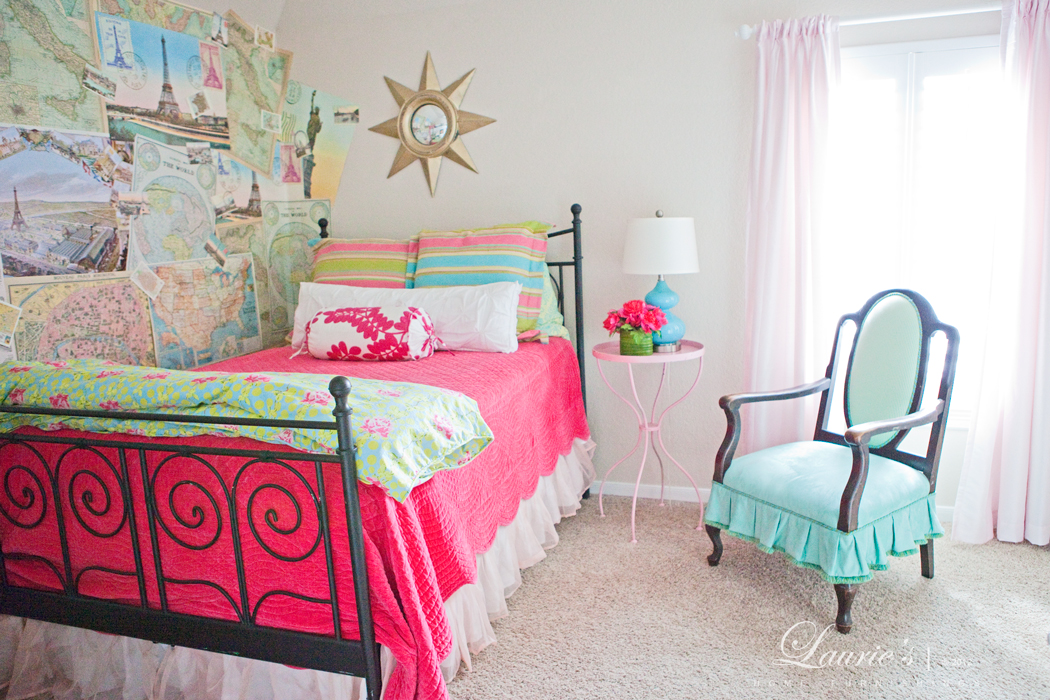 If this scene looks familiar — you have a good memory!
The Cooke's home was featured in Cy-Fair Lifestyles & Homes
last summer seen here.
I have to say that I chuckled looking at the cover —
notice anything different?!
Michelle is what I like to refer to as a "tweaker".
She "tweaks" things continuously to make it better and better.
No it doesn't mean that she is indecisive!
 Just always taking something great
and improving on it.
Of  have I have no first hand
knowledge of this– I've just heard….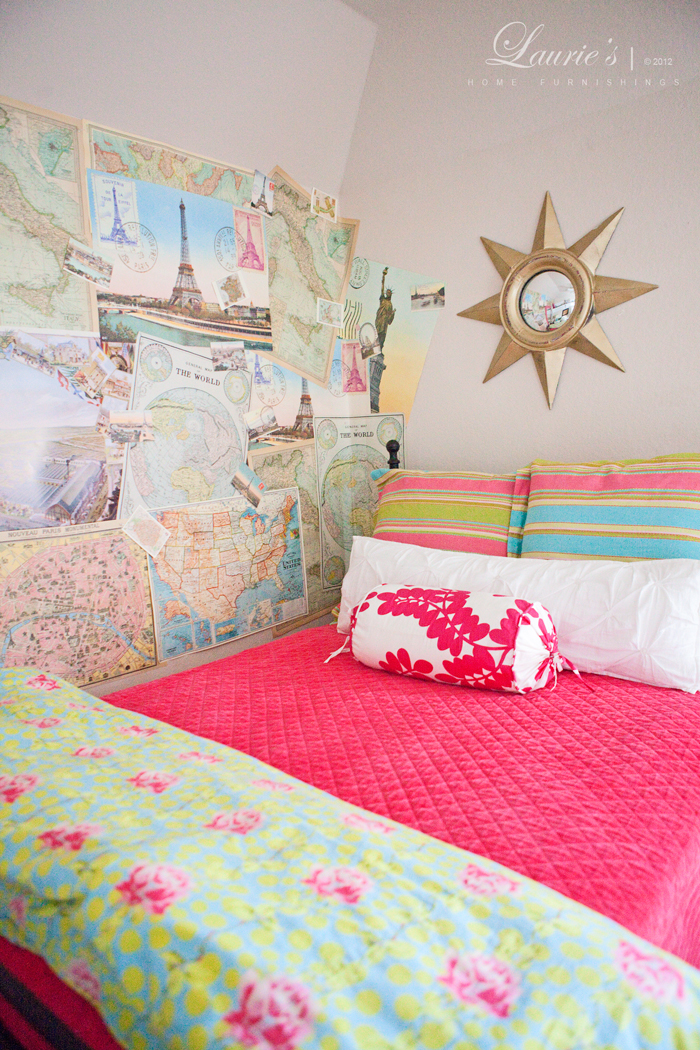 Here you see more of our sumptuous
Pine Cone bedding available in so
many colors and prints at Laurie's!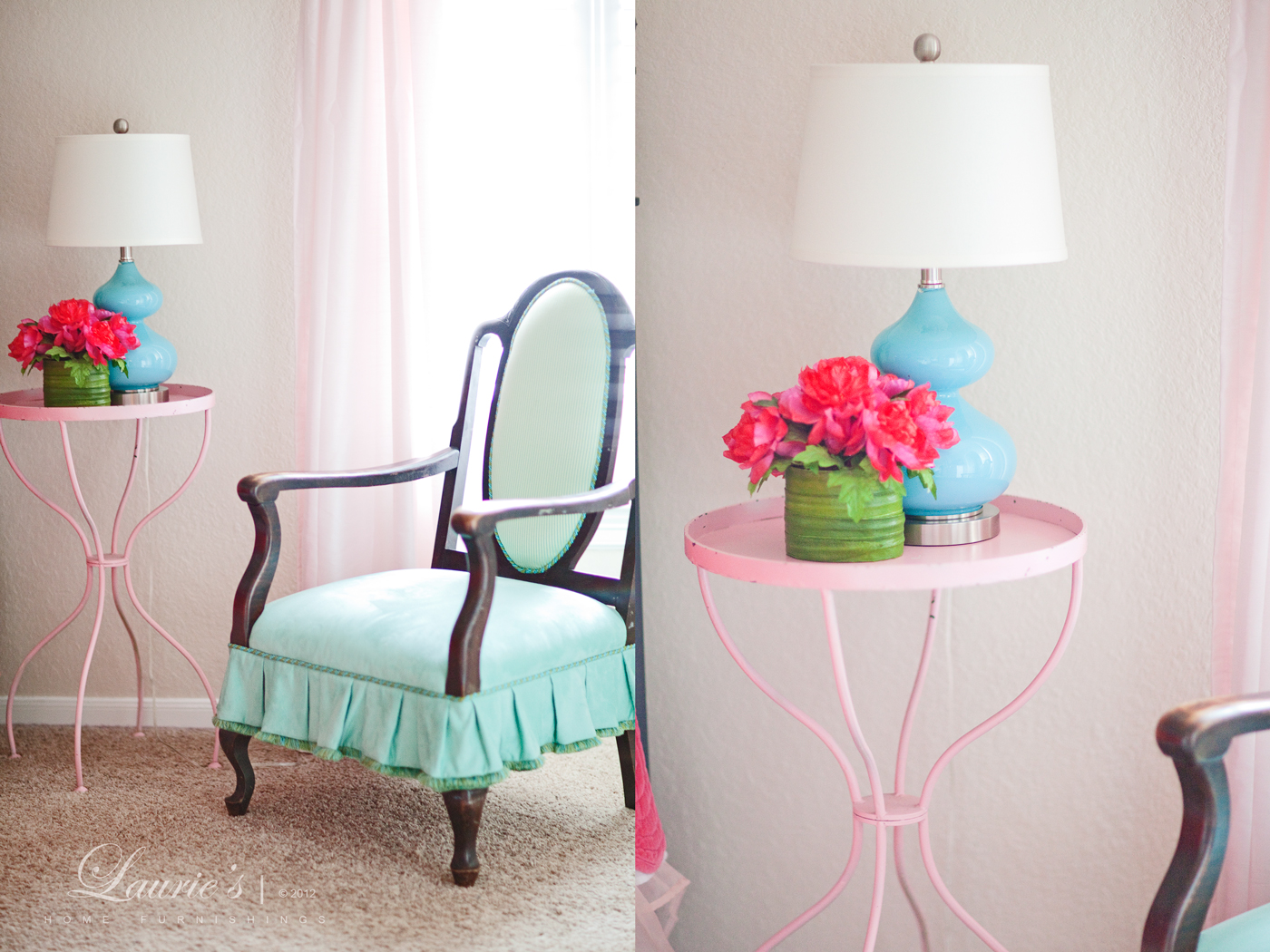 Another example of vintage and new
coming together for a fabulous shabby chic look.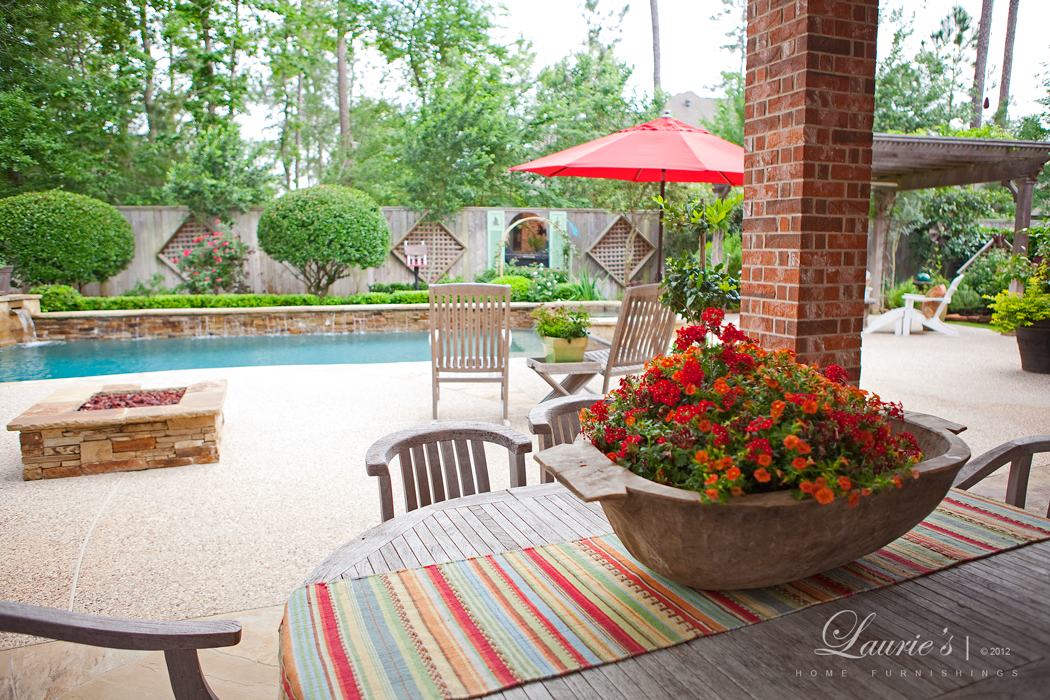 Backyard paradise! Yes you've arrived!
The pool alone would merit a smile but
add the fire pit, arbor, garden, and more
and now you've got yourself and oasis my friend!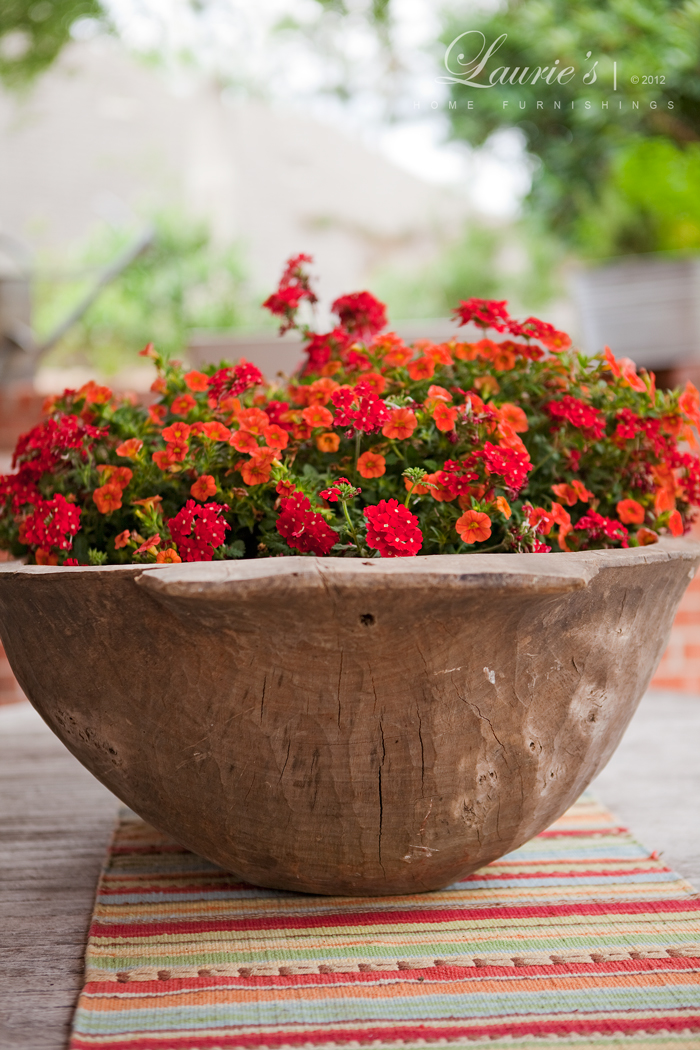 Backyard table camera ready.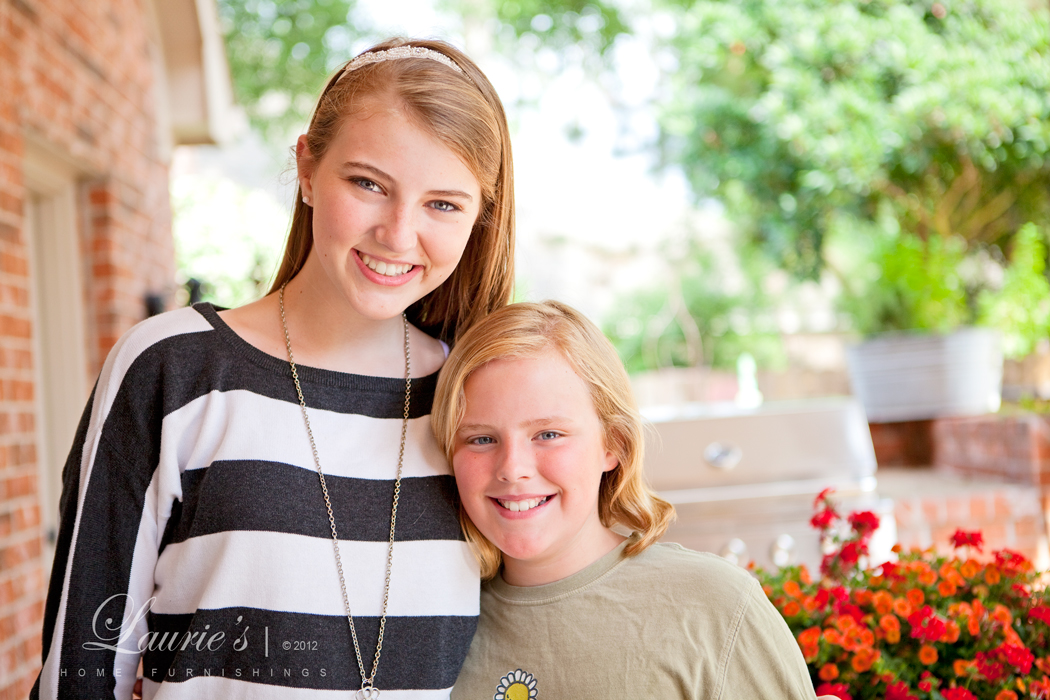 It's easy to see why there are so many sweet smiles!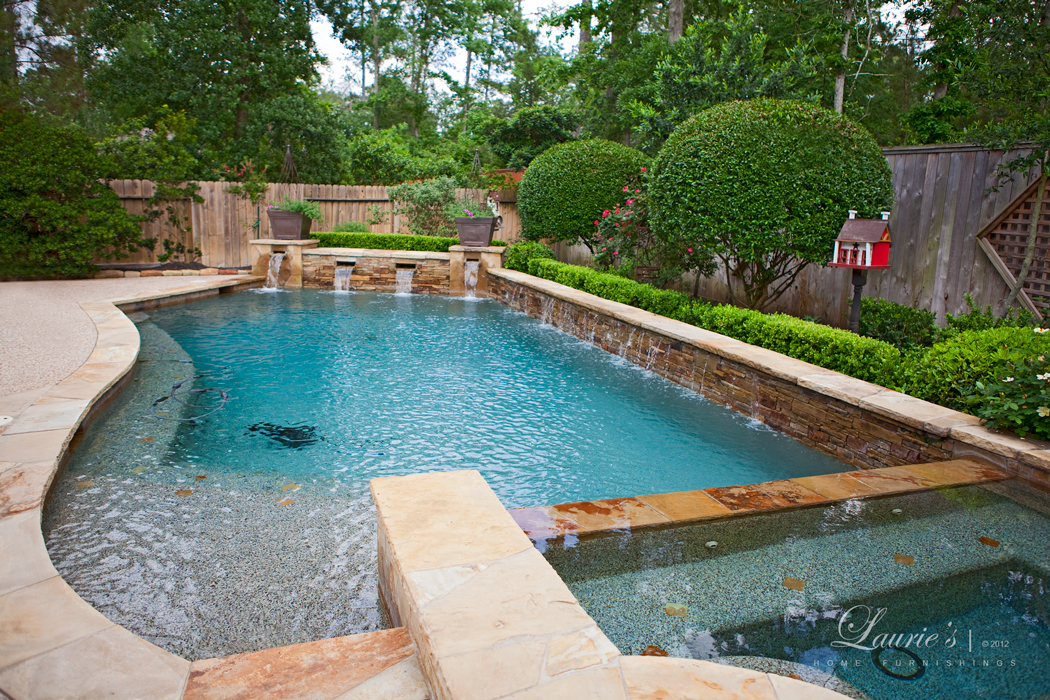 If you stare long enough you can actually
feel that cool water on your toes.
And you thought the front yard was amazing!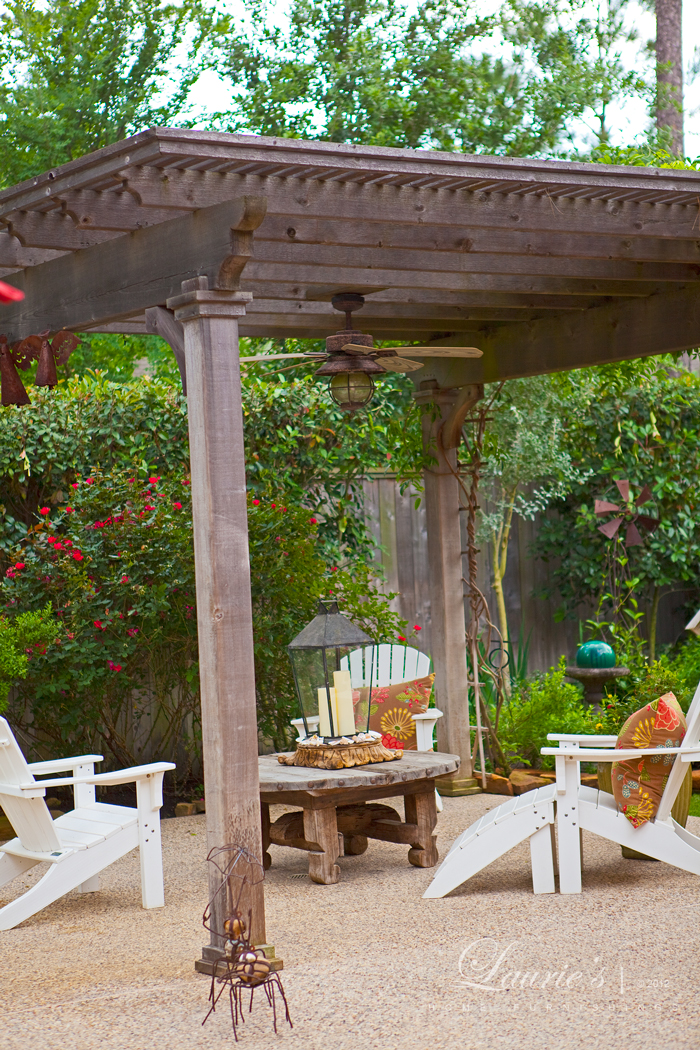 I would relish drinking my morningcoffee
and gossip business calls here.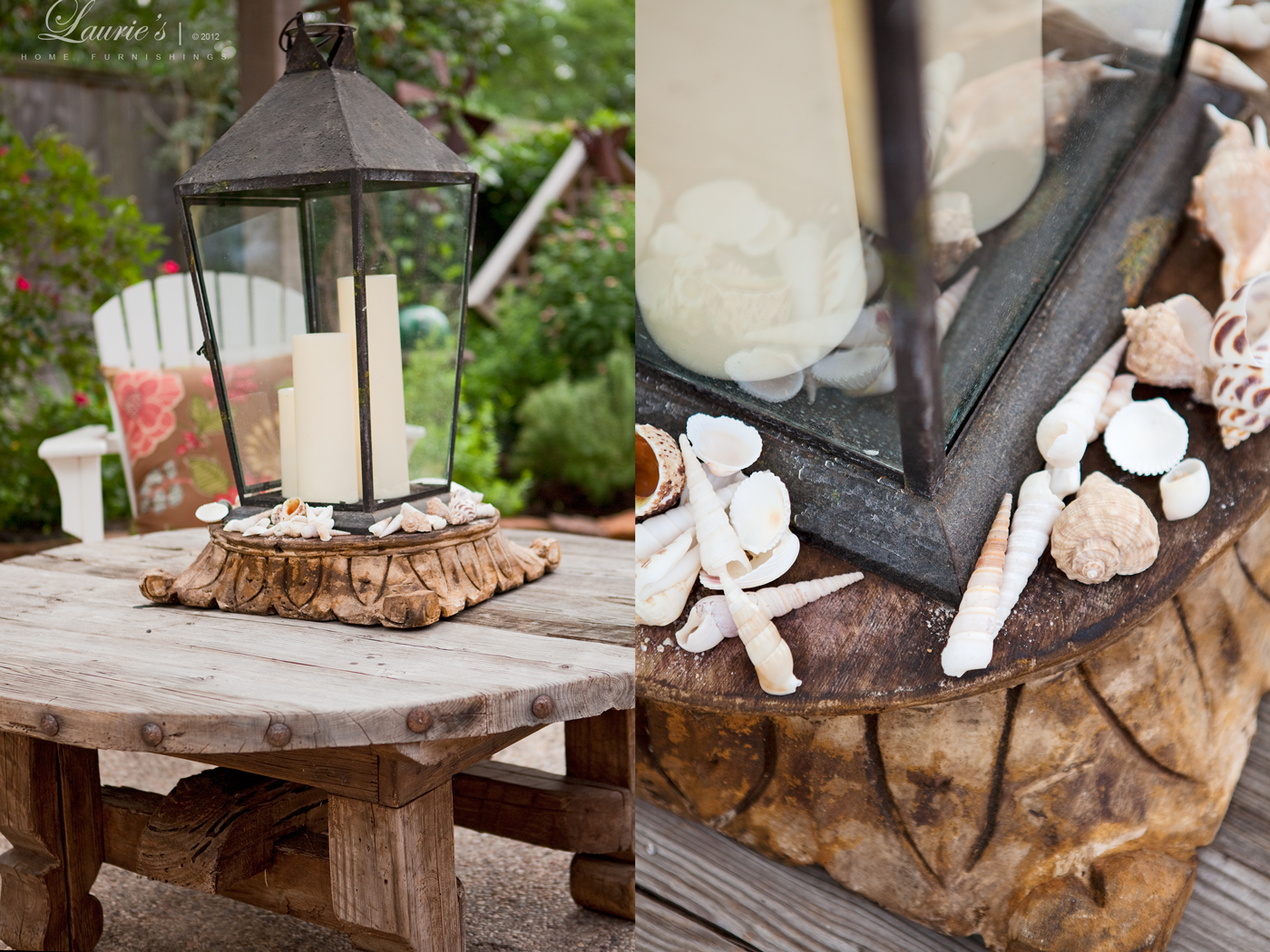 Just got these cornice bases in at Laurie's!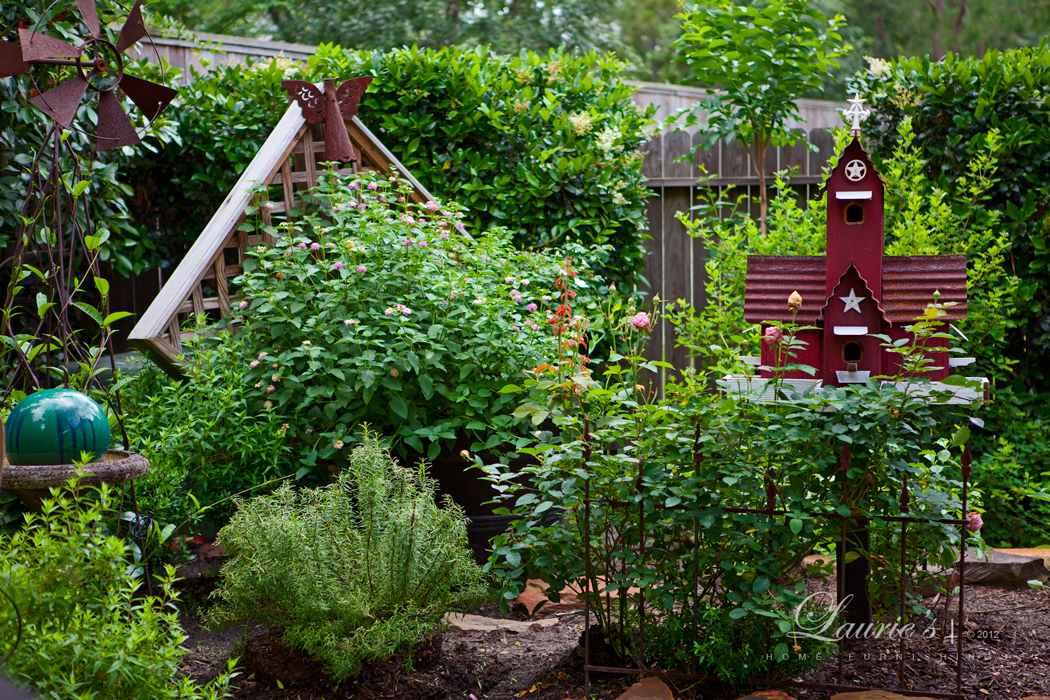 Surely a master gardener would delight in Michelle's garden.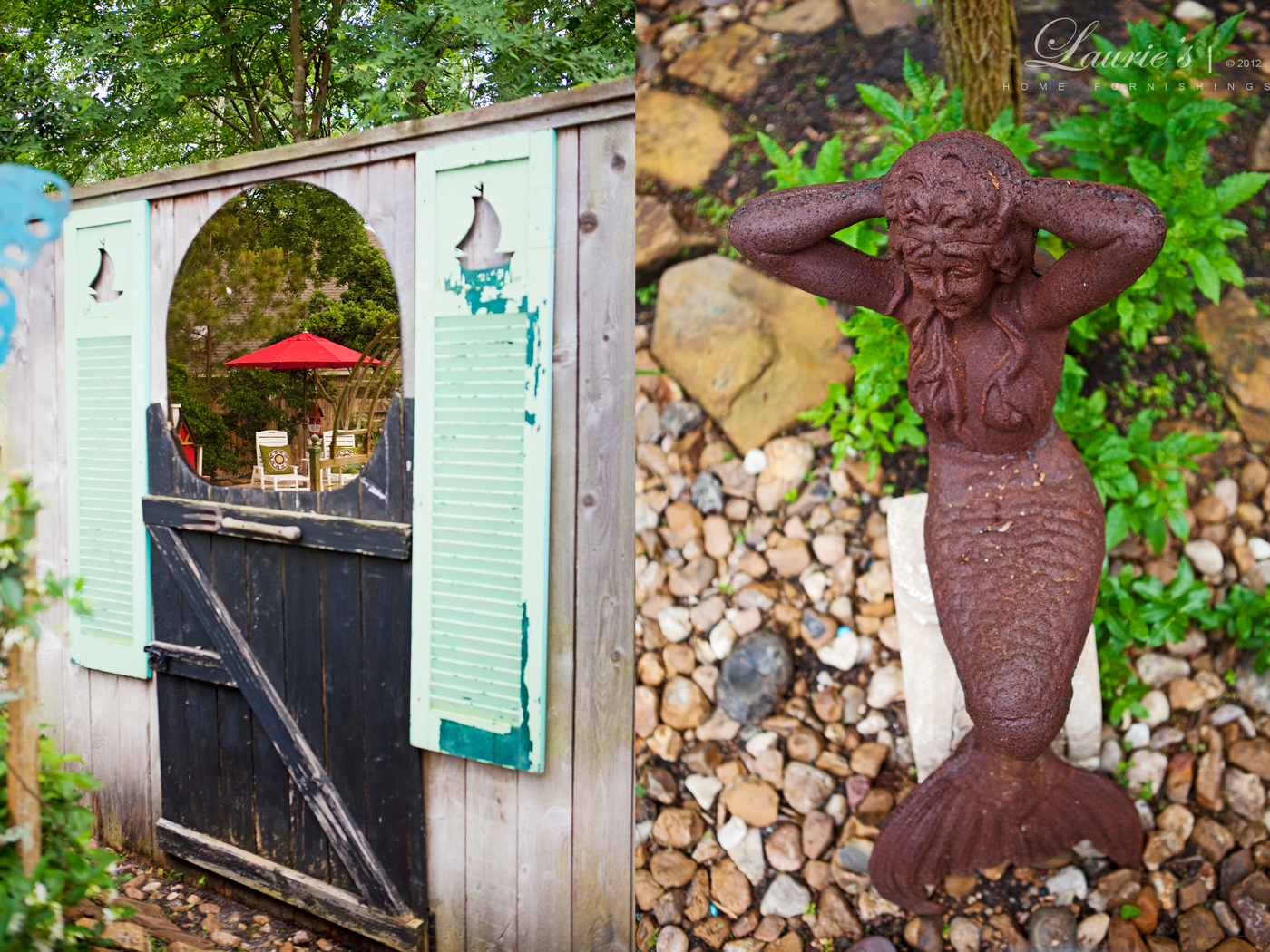 Here's the bit of whimsy typical of
Michelle includes in her design.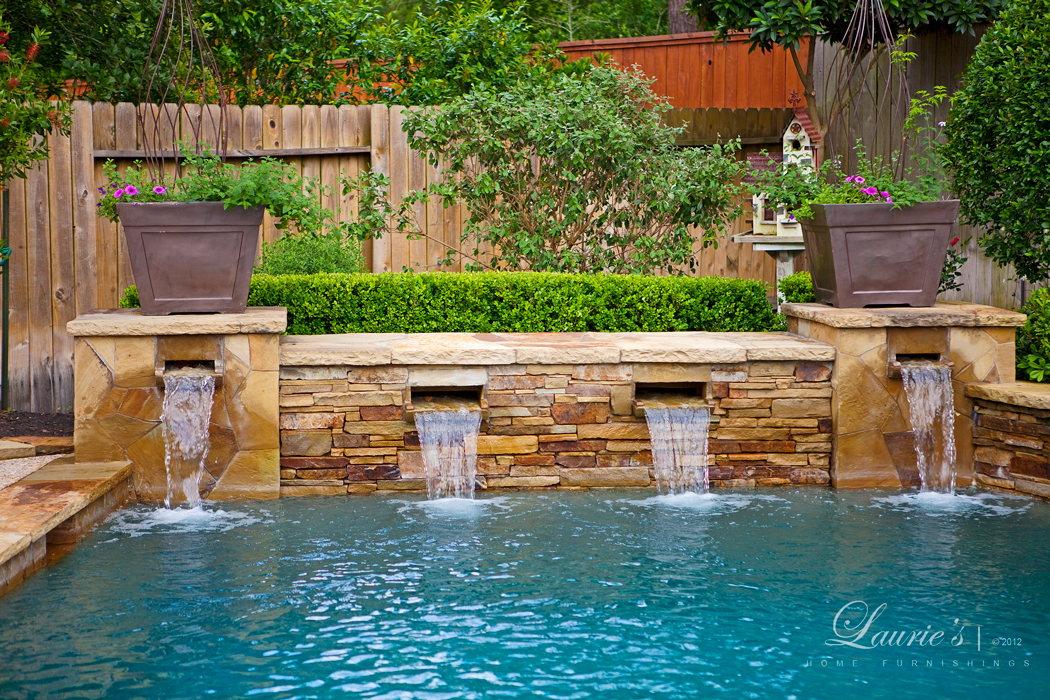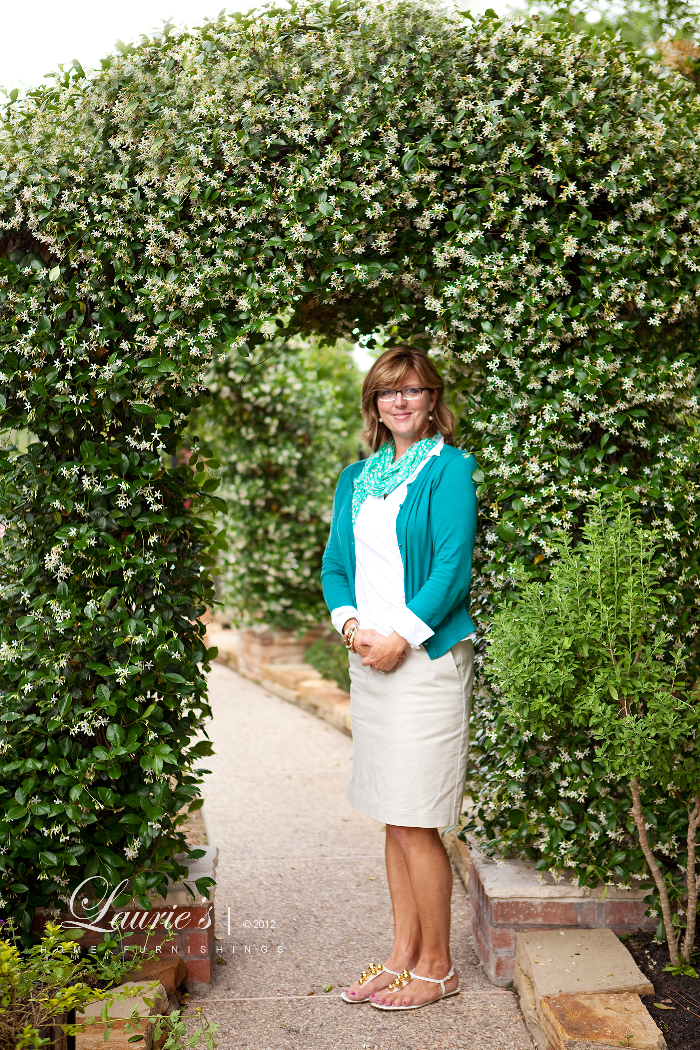 Michelle, you have left us in awe of all of your amazing skill sets.
From home design to family to gardening…
you are the epitome of a wonderful mother and woman.
Thank you for letting us take a peek at your beautiful life!