Happy Early 4th!!
There are so many great DIY's for the 4th of July that we wanted to give you plenty of time to do your favorites.  And this is just the tip of the iceberg!  Visit Laurie's Pinterest board called Made in America for more inspiration.
First off, cool everybody down with these layered drinks— fit for kids and adults alike.  So adorable with the added sparkler flare!!  These ingredients are just a jumping off point, let your imagination run wild with different flavor combinations!!
First a sweet arrangement that fits a number of places– on the front door to welcome guests and neighbors, on the backs of dining chairs, over the buffet……get the brightest hydrangeas you can find and some sweet vintage fabric in patriotic hues!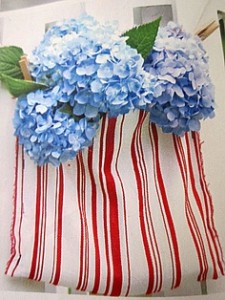 Finish off an afternoon of fun and games by knocking their socks off with this red berry cobbler – this recommends cream cheese ice cream–who knew there was such a thing?!  Don't forget to top it off with the mini flag!
And no one is going to care what's in this trifle when you walk out all lit up!!!  There's no 4th of July without sparklers!!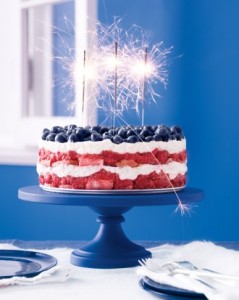 Need some table setting inspiration?  Red blooms and flags and plaid abound- be still your heart!