Rubbish Chuck
Rubbish (n.) debris, junk, nonsense
Chuck (v.) to throw, hurl or pitch away.
This week's rubbish chuck lets you transform your home's interior into a lush and luxurious landscape bursting with greenery –
oh, who are we kidding?
These two artificial trees are neat, but they're no natural wonder. They are, however, a steal at less than half the original price.
They're cypress, by the way.
Each stands 30" tall in its own personal clay pot.
Easy maintenance: No watering. No trimming. No strange bugs eating up all the leaves.
Plop them in your foyer. Fill a nook in your bedroom. Add flair to the family room. Just take them off our hands!
Three sets available. Act now or lose out.
Original price: $25 each
Rubbish Chuck price: $20 for the pair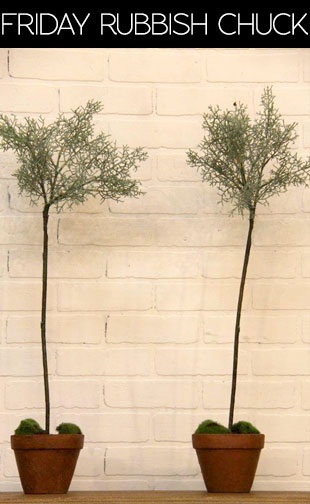 All sales are final. No Holds.
Come in or call 281-290-9565.
Operators are standing by!