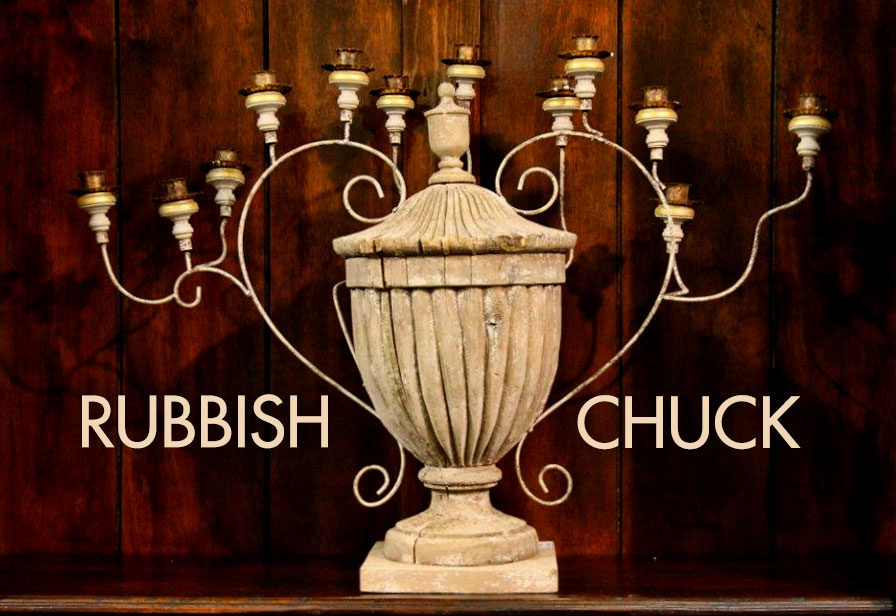 If you are looking for a piece with personality, this is it. He's Romantic, Dramatic, and has a story to tell. And he can hold 12 candles. There is a slight chance that he's magical and he'll sing "be our guest" every time you come home and tell you to sit back and relax and put your feet up and stuff.
26″ High x 36″ Wide. Wooden Base.
Originally $450
Rubbish Chuck Price $50 !!
Rubbish Chucks are sold "as is".  The items are severely, and we mean seriously discounted.  It is an amazing  bargain.  Will never be sold at that price again.  Sometimes it is the last one.  Or has been discontinued.  We want the "rubbish chuck" to leave our floor to make more room for all the new kids in town. 
So if you don't like its character flaws…just walk away.  Don't invite it into your home.  If you can't live with it's issues… leave it… quickly. But once you embrace it, buy it and invite it in… it is YOURS.  It is gone from here forever.  That means until you know what freezes over you will be sitting or serving on it.  Whining and flaying around will do no good.  We have told YOU the rules.  Seriously.  That's the end of it.  Shush up. Be happy.
All sales are final. No Holds.
Come in or call 281-290-9565.
Operators are standing by!