Aunt Laurie went to market, this time in Dallas. In addition to cows, airport layovers and guys named J.R., Dallas is home to one of the most expansive gift and home markets in the entire state – and that's saying a lot when you're talking about Texas.
Pork Chops Were Big
Actually, Aunt Laurie and crew didn't see any real-life pork chops, but they did get a glimpse of a sweet pork chop sign featured as part of a rustic farmer's market display. Creative table settings were on the menu, like an egg served up in a nest on a plate, nested near a mini-bag of herbs.
Roosters, baskets and all kinds of cozy kitsch were also on display, as was an absolutely awesome lantern lineup. We go gaga over all styles of lanterns!
Crystals Were Bigger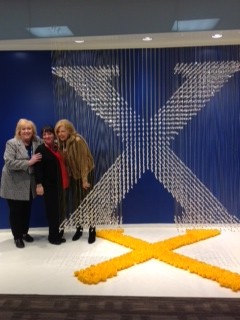 A ginormous Roman numeral X marked the spot where Aunt Laurie, Cassie and Martha were hanging out having fun. And that ginormous X was made entirely out of Swarovski crystals!
Beds Were Biggest of All
Perhaps the lovliest items that caught Aunt Laurie's eye were the new lines of luxurious linens. Fresh styles from Lili Alessandra and Pom Pom looked delicious enough to eat (if you're into eating fabric, that is). Fabulous linens from Bella Notte are also coming soon, just in case you need dessert.
Of course, the best part of Aunt Laurie's market jaunts is not necessarily what she sees, but what she brings back especially for you. Come check it out at Laurie's today!