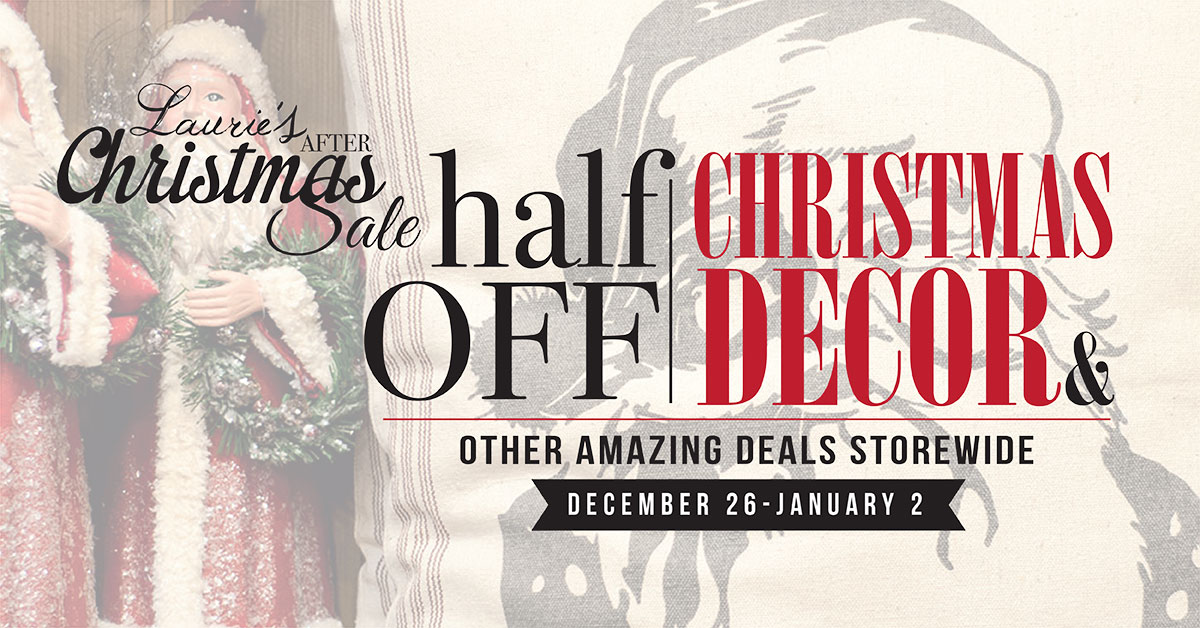 The stockings are empty. The gifts are all opened. The holiday ham is now merely a bone. So now what the heck are you supposed to do with yourself the day after Christmas and beyond?
Why, head to Laurie's of course!
Come to Laurie's massive sale that kicks off Dec. 26 and runs all the way through Jan. 2.
Dandy deals include:
50 percent off all Laurie's Christmas stuff

Random deals around the store that'll pop up to delight you
The Christmas Stuff
As many of you know, we don't hawk chintzy, plastic junk when it comes to holiday décor. We have classy, sassy and humorous stuff, which couldn't be junky if it tried. Folksy figurines, aromatic potpourri, silly signs and terrific throw pillows were on this year's lineup. Come on down to see what's left so you can gobble it up for a song!
The Random Stuff
While the holiday décor is fun, you can have even more fun trolling around the shop checking for amazing random deals. You may find jaw-dropping prices on sofas, tables, chairs, artwork – who knows! Hunting down the deals makes for loads of excitement, especially when you find one that looks like it was created especially for you!
If half-off Christmas décor and rollicking random deals aren't enough to persuade you to show up, just think of all the holiday calories you'll burn off perusing our 23,000 square-foot showroom.
Head to Laurie's extravaganza Dec. 26 to Jan. 2 – hope to see you here!